Promote Your Musician and DJ Pages with Facebook's "Promoted Posts"
Want to promote yourself on Facebook to reach more fans? Facebook just released a new feature to make it easier.
To get started, you will need to create a Facebook "Page" for your music. Here is what they look like: facebook.com/axwell
Pages are different from your personal profile where you can add friends. They are designed to be advertised, and have replaced MySpace for many musicians. You can create one for free, and it takes just a few minutes. Once you have a Page, you can start inviting your friends and grow your "likes".
In many ways, Pages are similar to your regular Facebook profile. You can post Photos, Status Updates and more. However, most people don't realize that Facebook shows your posts to only 16% of your total fan base. So if you have 5000 "likes", Facebook will show each Status Update to only 800 people.
Thankfully, Facebook just launched a new feature called "Promoted Posts". If you enable it, Facebook will guarantee that more fans will read your post. It costs money, but it can be cheaper than sending email. We have about 50,000 fans on Facebook, and here is what Facebook is charging us to use Promoted Posts: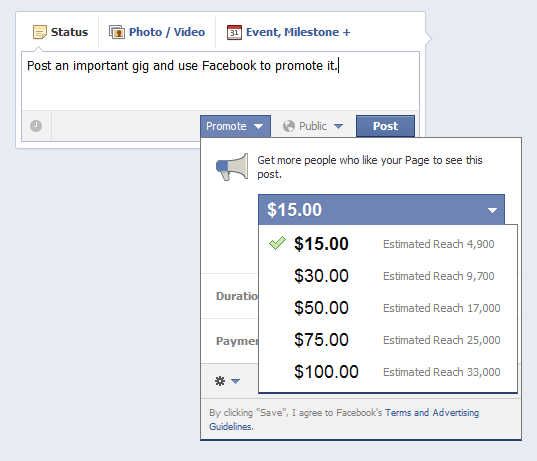 If you have a Facebook Page, you can use this feature to promote an important gig or a new album. There's a higher chance that your post will go viral. Enjoy this new feature, and tell us how it goes on our Facebook wall.
Want to learn everything we know about DJing?