12. Build Your Brand
Your marketable skills begin with your talent and your sound, but there's more to this picture too–your consistency, dedication, professionalism and personality carry a lot of weight with your fans and with the people who want to hire you.
At the "superstar" level, DJs are a unique breed because they have to manage multiple aspects of their public persona. It's not enough just to tour the world with an expensive light show, or to mix a mind-blowing set with passion and creativity. You literally have to be an arbiter of the future–attuned to emerging trends and technologies, and ahead of the curve with your selections, remixes, and productions–while still maintaining a vestige of the sound and style that got you there. That's not easy; just ask Tiesto, BT and Richie Hawtin, or even eclectic outliers like Ellen Allien or Amon Tobin, both of whom have reinvented themselves more times than we can count, but draw packed houses consistently.
If you're just starting out as a DJ, we know it feels great to drop a mix that really shakes up your local club. But if you're looking to pursue this as a career, where do you go from here? Defining and curating your brand is really the key to moving forward.
Why Does Branding Matter for DJs?
Think about the most successful DJs in the world, and you'll realize that they have several things in common besides their technical skills and talent. They each have a distinctive sound, look and personality, and they each maintain a steady media presence–all of which connects to being memorable as a brand. Tiesto is a perfect example; with his immediately recognizable logo and his dynamic presence on stage or in the booth (he's known for dancing all night), his live shows have become ritual gatherings for his fans worldwide.
Elements like these are important in furthering your own DJ career. You need to create your own identity so you can stand out from the crowd of DJs who are available to play on any given night in any given city. Competition for residencies is always fierce, so you'll need an edge to get ahead.
Think again about your favorite DJs. You know what to expect each time you hear Kaskade, Tiesto, Avicii, or Skrillex play a set. They have built their brand around a specific sound and image. This isn't to say that they're playing it safe–after all, if your fanbase learns to expect you to change with every album, that too can become part of your brand–but consistency is at the core of what they do every night, whether they're on tour or in the studio.
Creating and Curating Your Image
The way you dress and the music you play, as well as your social media presence, website, and the marketing materials you create, are all reflections of your personal brand. But don't forget why you need it: you're trying to get gigs so you can make a living playing music. If you're not getting work, or if you feel stuck in a creative rut, you might want to think about retooling your brand.
Back in 2010, New York City DJ Danny Rockz made a name for himself in a flooded market by reinventing his image. After a decade of DJing on the local scene, Rockz had begun to lose interest and decided to start over with a clean slate. "I took the first two months of 2010 to think about what I wanted to do, what direction I wanted to head in," he says. "I started with a whole new image and a new music format. I started doing parties I liked and playing music I liked, and it all just grew from there."
Rockz adopted a true open-format mix in his live sets to include rock and roll, indie, house, hip-hop and classics from every era. Eventually, he landed a residency at Provocateur and regular gigs at such New York hot spots as 1OAK, The Darby and Gansevoort Park. "You have to make yourself stand out in some way," he observes. "Personality is the one thing I feel like a lot of people lack."
Not only do you need to decide which market you want to target (whether private events, bars and lounges, or the full-on bottle service scene at local clubs), but you need to cultivate an ability to network. "I talk to people, meet people and follow through," Rockz says. "A lot of times you have to stay on top of people, but in the sense that you're not overwhelming or creepy about it. You just want to be cool–just say, 'Hey, what's going on? How are we going to make this happen?'"
Interview with Ani Quinn: DJing in the Big City of Dreams
As one of the top DJs in New York City, Ani Quinn has made the most out of his early experiences on the city's underground rave scene. We asked him what the competition is like in one of the toughest markets in the world.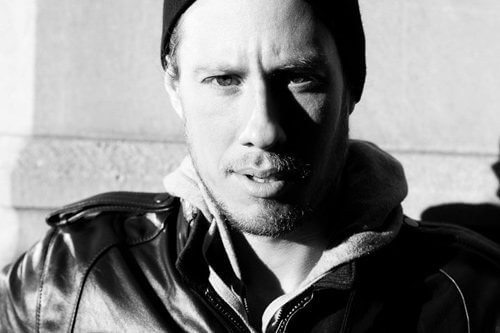 How did you become a resident at your current clubs?
Ani: It helps if you're an exceptional DJ. I've worked hard over the years to hone my skills. But all of the current residencies I have are based on my relationships with club owners and promoters. Some of these relationships I've had since grammar school. But these guys didn't hire me to DJ just because they know me. I can hold a room, and I consistently throw down a solid set. But it really is true what they say: it's all about who you know.
Is New York City nightlife different from other parts of the world?
Ani: Hip-hop is still huge in NYC. On any given night at clubs like 1OAK, Greenhouse, SL or Avenue, you might have Jay-Z, Busta Rhymes, or Russell Simmons in the building listening to your set. Obviously, if Jay-Z is in the club with Kanye West, you're going to play more of their music than you would otherwise. It depends on the venue, though. A lot of spots want more of an open format set and don't want DJs to play too much urban music.
Overall, New York has a huge and diverse nightlife scene. You've got clubs that cater strictly to EDM, and you've got spots that just want indie music. There are different clubs for different crowds, and different nights at different spots, to cater to people's needs. On the weekends, clubs tend to loosen up their door policy. There are more tourists and "bridge and tunnel" crowds from Jersey out in the city. DJs tend to play more commercial sets to cater to the weekend crowds.
If I play outside of New York, I try to make sure I know what the crowd wants for that specific venue. People book me knowing that I'm a New York DJ, so they expect me to bring that flavor to my sets. But different cities and clubs have different sounds. Ultimately, I want the crowd to enjoy themselves, so I try to find out beforehand what works for the specific night that I'm DJing. I'm not going to hold a club hostage and force the audience to listen to one thing when it really wants another.
Everyone does it differently, but how do you read the crowd and decide what to play? Are there any "tells" that help you figure out what to do next?
Ani: I just keep my eye on the room. A good DJ can tell when it's time to switch up the vibe. It's really about movement. If the room isn't moving, then I need to switch it up. In actuality, there are so many different ways to DJ. Most parties these days want non-stop high energy from beginning to end, with no ebb or flow in the music. If it's just about keeping the energy up, I know which records to play and when, and I'm not opposed to playing some of the bigger songs multiple times in one night. If the crowd is a little cooler, I might test out records to see their response or play stuff that I just want to hear and that I think sounds good with my current song selection. But I always have a group of songs ready that I know will bring the energy back up in the room. It's also about being confident in your song selection and your ability to put it all together. It's great when you're able to play something that the crowd doesn't expect but you've timed it in a way that still works for the room.
Tell us how your residency works. You come to the club before it opens, and what happens next? What's a typical night in terms of the time you spend in the venue?
Ani: I used to get to the club early and get set up before the doors were open, but now I have openers and closers. I typically hit them up to see how the night is looking so I know what to expect when I get there. I usually arrive around 12:30 a.m. and then go on right at peak time. I immediately try to bring the energy up a few notches. I have a bunch of great openers that I use. They know not to play certain records, but I'm not opposed to them running a few of the bigger tracks. I know I can go on and still kill the party, even if the DJ spinning before me really has the crowd rocking.
Do you get to know the general manager and the promoters? How much input do they have on the music?
Ani: It's important to have relationships with the staff in nightclubs. If you work somewhere every week for years at a time, it's inevitable that you'll get to know your co-workers. Everyone is on the same team, from the owners and promoters to the waitresses and bartenders to the busboys and bathroom attendants. Successful weekly nights have a life of their own. The music is a huge factor, but if the doorman isn't doing a good job, the night's not going to go as smoothly. If security isn't on point, all sorts of problems can arise. I have the utmost respect for any nightclub staff, whether I've worked with them for 10 years or for only one night.
We talk about the financial side of the business in this book. Do any of the clubs put you on salary, or are you always paid per gig?
Ani: It's a pay-per-gig situation. I've been offered salaries from nightclubs before, but I make better money working different spots. It's also important to keep things new and fresh. While good weekly parties are priceless and help build a DJ's reputation and career, if you get stuck working at one venue, it can limit your exposure to new listeners and new opportunities. No club or night stays hot forever, and as a DJ, you have to stay one step ahead of that curve. If a long residency starts to lose steam, sometimes it's better to move on to something new even if it means a little downtime between parties.
Do you ever get to choose your opening DJs?
Ani: I use my own openers and closers as much as possible. It's how I started DJing. It's how I got my foot in the door, and I try to do the same thing for new DJs. A lot of the openers I've used have gone on to DJ their own nights. I think it's awesome that I could help give someone that kind of opportunity.
Four Marketing Tools You Absolutely Need
You have to start somewhere. In Chapter 13, we'll get into more detail about social media and how you can use online marketing to your advantage. For now though, here are four essential tools you need to start marketing yourself to the world.
Logo: An eye-catching and unique logo shows that you've invested time and creativity in your brand. The most successful DJs in the world have customized logos. We'll show you a few ways you can create one.
Promotional Photos: Your personality and how you present yourself as an artist are vital for landing new gigs. Most venues will happily put your image on a flyer, which from there usually gets posted on Facebook, the venue's website and printed materials. It's built-in advertising for you and your brand.
Business Cards: A smart, professional-looking business card speaks volumes about you; it's often your first point of entry with promoters, club owners or anyone else, including fans, who can get you gigs. It's better than just trading phone numbers. A well-designed card makes an impression that people will remember when you call them to follow up.
Facebook Page: This is not your personal Facebook Profile, which is where you can add friends. A Page allows you to build your fanbase and post news about upcoming events, new mixes and remixes, video clips and even merchandise. It also improves your chances of showing up near the top of a Google search (known as search engine optimization, or SEO). We talk a bit more about Facebook in Chapter 12.
Design Your Logo
You don't necessarily need a flair for graphic design to create an effective logo–just a little patience and a willingness to experiment. Most DJs don't have a logo, so if you can come up with a unique symbol or a customized font to promote your name, you're already a step ahead of the competition.
Getting started. Spend some time thinking about your DJ name and your image. Try to come up with five to ten variations of your name and some symbols that inspire you, and then sketch them on paper. Your symbol should fit your music, so think about the music you play most often and what associations you can take from that. If you play friendly and vocal house music, then you might consider going with an elegant and smooth font, or a design with clean lines. If you favor minimal and techy music, you might be better suited to a font and logo with sharp edges and prominent corners.
Take a quick look at the websites of a few well-known DJs, and you'll see that most logos are horizontal and will easily fit in a rectangular box. This size and shape is also easy to fit on business cards, promotional materials, and custom websites. For example, take a look at Kaskade's old logo:

Before changing his style, Kaskade played soulful house music with great melodies. The leaves and vines that wind around the letters of his name are a good sign that you won't get banging drum-and-bass when you listen to his music. Small details like this can make a good logo even better.
Try a few different designs. It's a good idea to come up with a few options that you like, and then ask your friends for their honest opinion–they can be a great resource for input and ideas. Once you have a design and color scheme that you're happy with, draw a large, clean version of it. This is your chance to get creative; you can add details, play with the color, or think about embellishments. Try experimenting with new fonts to see if anything strikes you.
When you create the final sketch, you'll have to convert it to an Adobe Illustrator file and a transparent .PNG file that you can use on various websites. You can hire a graphic designer to help you with this, or ask your friends and see who might have the software you need. In our experience, it's easy to find a graphic designer among your friends.
Sometimes a simple font is just as good as a logo. If you don't have access to a designer, you can just choose a font to represent your name. You don't need a symbol or a complex idea; good typography can be just as memorable. There are plenty of font sellers online (such as Fonts.com) that allow you to preview different fonts before you buy them. All you need to do is type your name into the preview window, and you'll see how it looks in the font that you've chosen.
Fortunately, there are legitimate websites where you can get fonts for free too. If the website has a good reputation and respects copyright, you're not violating copyright for using those fonts. DaFont.com is one of them. We typed in the name Beyond Beatmatching and got a large list of results, many of which we thought would be perfect for a DJ logo.
Don't be afraid to make changes. Even though you've done a lot of work so far, your logo is not necessarily set in stone. Everything goes through an evolutionary process, and you might have better ideas two years from now. The important thing is that you take action now–the sooner, the better.
For inspiration, take a look at a flyer below and study the DJ logos. This came from the 2011 Ultra Music Festival; it's a great example of how a logo's look and shape affects readability. Each one has a unique font, is easily read at a glance, and fits snugly into the rectangular format we mentioned above.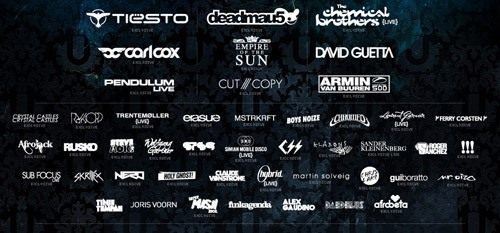 Click to zoom in.
Next: Expand Your Reach