13. Expand Your Reach with Social Media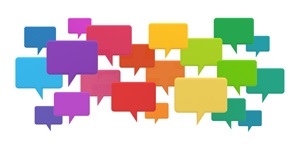 At this point we all know how web-based and mobile technologies have transformed the way we communicate. With the advent of social media, a basic one-to-one dialogue somehow seems quaint and old-school. Interactive group conversations have become the way of the web.
But the stark naked truth is that if you have something to say, whether you're a DJ, a painter or a politician, it has to be worth hearing. Social media can be incredibly useful for expanding your brand online, but these tools are powerless without a message that's catered to the interests of the people you want to reach. To make your efforts sticky–to attract new people to you and your brand–you need to be conscious of what your existing (and potential) audience wants. That means interacting with them as often, and efficiently, as you can.
And by the way, don't forget that for all the virtual interaction that happens online, we live in a real world too. Talk to people at your gigs, and dance with the crowd when you're not playing. Go see other musicians and support the local scene. Be yourself and be authentic, and you'll find that people will want to listen to what you have to say.
Curating Your Online Presence
Setting up your blog, Facebook page or Twitter profile isn't the hard part. The real question is how do you generate activity? How do you establish a committed following, and then how do you engage with them?
Test the waters. Before you dive in, it's a good idea to familiarize yourself with what's happening in social media, especially with how it relates to music, technology and e-commerce. If you're new to Facebook and Twitter, follow the artist pages and feeds of the DJs you admire, and take note of what they're talking about. Visit their blogs if they have them, and seek out blogs by industry executives, music journalists and fans who are interested in your genre of music.
Sites like Mashable and Hypebot are also great places to find out what's trending in social media, technology and the music business in general. As always, information is power. There are trends in the music industry that you can capitalize on, and shifting consumer behavior patterns can present opportunities if you know where to find them (remember how Trent Reznor and Radiohead started a revolution by giving away music so they could attract fans who might buy the deluxe package?). It's always in your best interests to be open-minded and agile, so if a new approach, product or service hits the market and takes off, you're ready for it.
Engage your fans. When you start posting online, you need to be conscious of your tone of voice. You want to engage your fans, not lecture them. It's not just about communicating; it's about creating interactive exchanges and experiences that mean something. Imagine that you're following one of your favorite DJs. If he or she posts links to other blogs that you might find interesting, as well as music, photos, event invites, humorous links, and informed recommendations about films, art openings, books and other subjects, it's probably safe to say that you'll end up liking that DJ even more.
A good rule of thumb is to follow the late-night talk show rule. Think about the celebrity guests you see talking with Jay Leno or Jimmy Fallon. They tend to engage about broad human interest topics first (such as life stories or current affairs), and then they promote their book, movie, TV show, or event. This is a great model for building relationships through social media.
If you want anyone to care about what you're selling, you have to engage them by being entertaining and informative. Your sphere of interest doesn't have to be exclusively focused on DJing and music; great stories and links to useful information and ideas that you find compelling are just as important. Once you get your fans hooked on the reality that you're a regular person, they'll be more receptive to your brand.
As a general rule of thumb, the content and updates that you post in online channels should follow a 4-to-1 ratio. Put simply, this means that for every social object (photos, Tweets, blog posts, audio/podcast clips, videos and status updates) that you post about yourself, you should post four more things that aren't about you. And whatever they are, they need to be informative, inspirational, entertaining, engaging and/or remarkable.
It's not an exact science. The 4-to-1 rule is a simple set of guidelines to follow that will help you grow your fanbase and eventually "earn the right" to talk directly about what you're selling. This is how you build credibility, or social currency, with your fans and followers.
What We Learned from Using Email: It Still Works
Email is still a simple and cost-effective way to communicate with your fans. Email newsletters (or "blasts") are a great way to alert your fanbase about upcoming gigs and new music releases, and like your online posts, they can say a lot about you and your personality. Try not to be too serious or stilted in your tone–again, you want to draw people in, not push them away. Give them the facts, but feel free to embellish a bit with some humor whenever you can. Hone your message and get creative, and your fans will see you're having fun with it.
Never send unsolicited email. The last thing you want your name associated with is spam, because everyone hates it. Build an opt-in database by asking people for their email addresses, either in person at your gigs, or through a form on your website. Try to keep your email blasts to a respectable minimum; even if you have a lot of new gigs and releases coming up, it's best to send just two emails per month at the most, and usually early in the week (around Tuesday), which is when people tend to be most receptive.
To handle your bulk email blasts, we strongly recommend email client software from CampaignMonitor.com. It's inexpensive and provides a great service, including database management and analytics (Mixed In Key has used it since 2007).
To sum up, if you take the following steps, you're on your way to creating an effective email marketing campaign:
Create quality content. A clear, concise message increases the chances that your recipient will read the email (and future emails). Make sure your subject heading is an attention-grabber (but don't use CAPS–it's annoying). Organize your content using lists and bullet points, especially for tour dates and appearances. Include a call for action to ensure your marketing piece will have an impact.
Use an email sending service. If you have more than 50 people on your mailing list, use a service like CampaignMonitor or MailChimp to automate and track the batch sending process. This is essential not just for tracking purposes, but also because it's possible your hand-emailed version will end up in your recipient's spam folder, and you run the risk of having your email account banned by your Internet service provider. Commercial services can send email in bulk without getting punished for it, because they obey strict anti-spam rules. Most services offer different pricing plans based on factors such as number of contacts and frequency of use.
Avoid looking like spam. Place an "unsubscribe" button or link at the bottom of the email to give your recipients the choice to opt out. Make sure you are complying with laws such as the CAN-SPAM Act–no false headers or political/religious messages.
Getting Twitter to Work for You
Twitter is adding millions of new users every year, and their users conduct over 600 million searches on Twitter each day. More than one-third of Twitter users access the service through their mobile devices, making it an excellent way to tap into mobile markets. You can use Twitter to post guest list promotions, news, and links to other sites, music streams, photos and video. It's an easy-to-use and free way to market yourself.
The question is, how do you get Twitter to really work for you? The key, as with any social media platform, is to curate your presence with a strategy in mind. If you have a website, you can start by posting your Twitter feed there, and including your website address in your Twitter bio (next to your profile pic). Cross-connections like these can help drive traffic to your website, but they're also important because they give potential fans multiple points of entry for learning more about you.
Building your followers on Twitter takes time and diligence. Stick to the 4:1 ratio we outlined above, and retweet posts that are interesting to you whenever you can; more often than not, you'll be rewarded with a new follower (or two). Take a look at the Twitter feeds of other DJs as well, and follow your favorites. If you're new to DJing, who knows? One of them might hear a mix set you posted, and invite you to open a gig.
Are You Using Facebook Wisely?
Facebook is a more popular small business tool than you might realize. Right now, over 100 million Facebook users are accessing Facebook through a mobile device.
You can use a Facebook artist page to share new music or mixes you've recorded, as well as information about upcoming events. It's also a great place to post crowd shots of your gigs; if your fans see themselves in your photos, they might be inspired to post them on their own Facebook profiles and then tag them with the names of their friends.
Again, if you have a website, post a link to it under your Contact Info. You can also customize your navigation bar (in Facebook Timeline, it's the line of clickable options that runs across the top of the page) with links to your YouTube channel and your SoundCloud page, and you can give your fans the option to sign up for your email newsletter.
Facebook allows third-party developers such as RootMusic, ReverbNation and Bandcamp to provide musician profile apps, which have grown popular as more artists opt out of MySpace. Apps like these are worth researching if you want to customize your Page for playing music, posting tour information, and even selling merchandize. Facebook also maintains partnerships with Spotify, Rdio and other streaming services, making it clear that music-sharing has become central to the trajectory of social networking.
Managing Your YouTube Channel
YouTube adds an obvious visual aspect to marketing. Every day, more than two billion videos are viewed on YouTube; it's an especially effective way to reach the younger market. You can use your YouTube channel to add a flashier and more entertaining aspect to your marketing efforts by posting videos from your shows, as well as how-to clips related to DJing. If you're into video editing programs like Final Cut Pro, you can also create a video montage for one of your mixes.
If you accumulate enough viewers, you can apply to become a YouTube Partner and start generating ad revenue from your videos. One way to build up your viewers is to use your other social media accounts–Facebook and Twitter especially–to announce when you've posted a new video. It's also a good idea to include a clickable link in any email blasts you send out.
SoundCloud, FourSquare and Blogging
Sites like SoundCloud, Dubset, and Mixcloud are great resources for sharing music and mixes online. Location-based services like Foursquare can help you generate real-time buzz during an event. You might be able to work with a specific venue to offer deals or discounts to fans who check into your event through Foursquare.
Blogging is another smart way to engage with your audience. You can either embed a blog element in your website, or create an entirely separate site using templates from WordPress, Blogger or Tumblr.
It's okay to think of your blog as being a bit more open-ended than your website. You can post about events, giveaways and contests, but it's also a place where you can promote your interests and pursuits outside of music, and give your fans a glimpse of your true identity. If you enable commenting on your blog, be sure to tell your fans to keep their exchanges respectable–and keep an eye out for spammers (they love to flood comments sections with meaningless advertising).
Next: Interview with Karl Detken