Energy Boost Mixing: Official Tutorial for DJs
We invented the name "Energy Boost" mixing many years ago, and taught many DJs how to use this technique. Check it out.
What is Energy Boost mixing?
It's an advanced form of Harmonic Mixing where you use your Mixed In Key results to wake up your dance floor. If you're not familiar with the basics of Harmonic Mixing, learn the -1, 0, +1 mix first. They are more common and more useful for playing an entire DJ set.
If you want to give your dance floor a quick burst of excitement, an Energy Boost will do that instantly. This happens when you mix into a key that is two numbers higher than your current key. For example, if you are in 5A, you can mix into 7A, like this: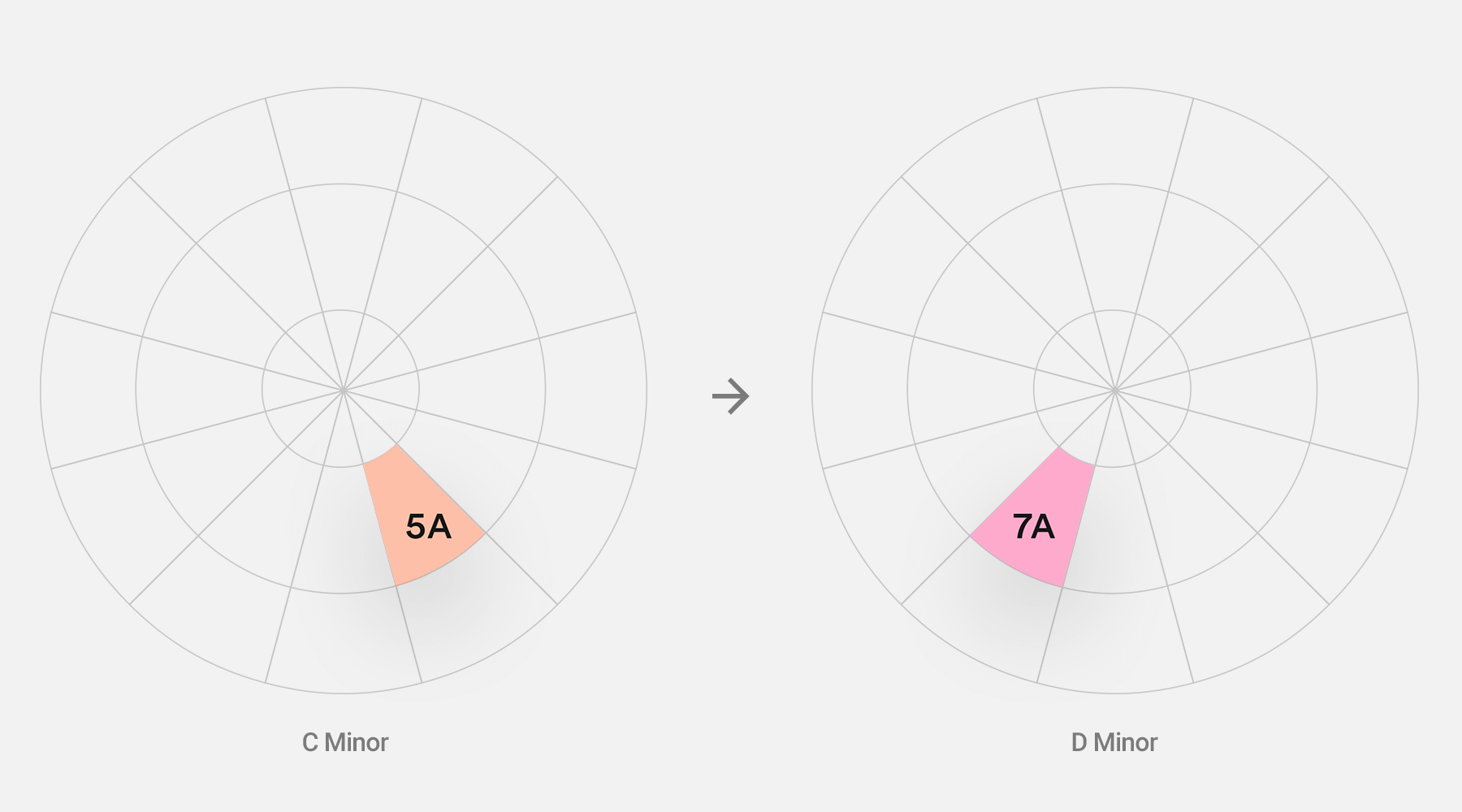 For example, let's say you're playing a DJ set that looks like this: 7B, 7A, 8A, 8A… and then, you want people to get more excited. Add +2 numbers to your current key code (8 + 2 = 10), and play the 10A song (skipping the 9A in between). It's like adding spice to your food. It's great in moderation, but if you do it too much, you'll overwhelm your audience.
Our suggestion: use it every 20-30 minutes, but not ALL the time.
Skrillex and Armin Van Buuren variation
There is another version of this technique, where you subtract -5 numbers from your current key code. If you're playing a track in 8A, you would mix into 3A. We call this the Armin Van Buuren variation because he starts many of his DJ sets with this approach. In his Ultra 2017 set, he played:
Armin van Buuren – My Symphony Of You (Key: 12A, Energy Level 7)
Armin van Buuren – Heading Up High (First State Remix) (Key: 7A, Energy Level 8)
Notice something interesting here. He starts his set in 12A, and then mixes into 7A (that's the -5 mix which we call the Armin Van Buuren variation). It gives a huge boost to the energy of the crowd, but in addition to that, he also picked a second song with a higher Energy Level. He's mixing from Energy Level 7 to Energy Level 8.
We've seen Skrillex do the same thing.
Those guys are using two techniques at once: Energy Boost using Harmonic Keycodes (12A > 7A), and Energy Level increase (Level 7 > Level 8). That's an amazing combo. If you use that in your DJ sets, you're going to sound incredible.
That's the power of harmonic mixing. You'll know in advance if your mix will sound energetic or not. Mixed In Key helps you get ready by tagging your music. You'll see the Mixed In Key Results and Energy Levels in your favorite DJ software so you can find the perfect track to play anytime.
Integrate Mixed In Key with your DJ software
Learn how to use Mixed In Key with your favorite DJ software like Serato, Traktor, Ableton Live, Pioneer rekordbox.
Learn Power-Block mixing
This technique is used by everyone from Zedd, to Major Lazer, to KSHMR and Dubfire. It's a great way to keep your crowd entertained and put on a memorable show. Learn how the pro DJs use Mixed In Key for Power Block mixing.
Next: Power Block mixing