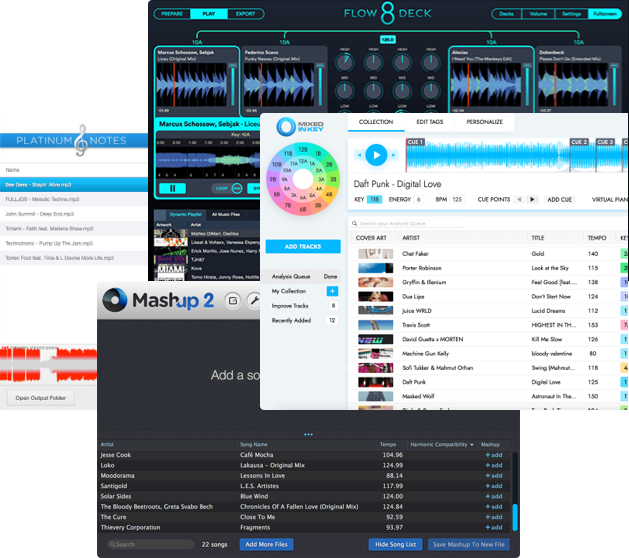 Mixed In Key's
DJ Collection.
The Ultimate DJ Toolkit. Used by the world's
best DJs.


Featuring our top DJ software tools, including Mixed In Key 10, Mashup 2.5,
Platinum Notes, Flow 8 Deck, and Odesi, this bundle is a must-have for any
DJ looking to elevate their sound and stand out from the crowd.
Created for the world's best
DJs.

David Guetta:
"I've been using harmonic mixing for
many years, but I had to find the keys
with a keyboard. Mixed In Key is as
good, in less time. Magic!"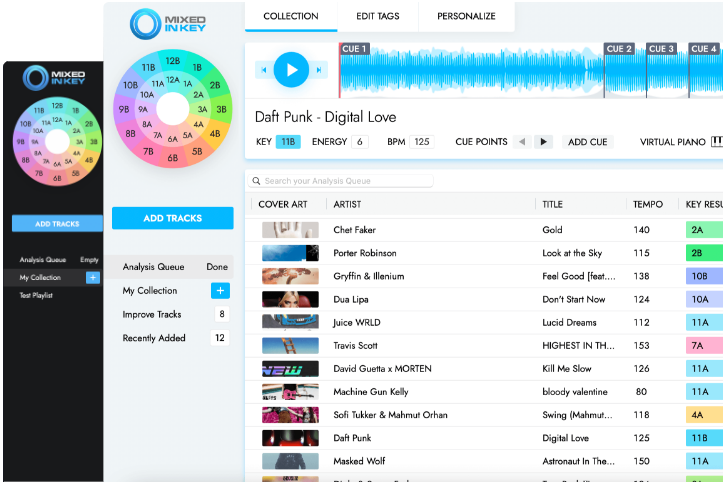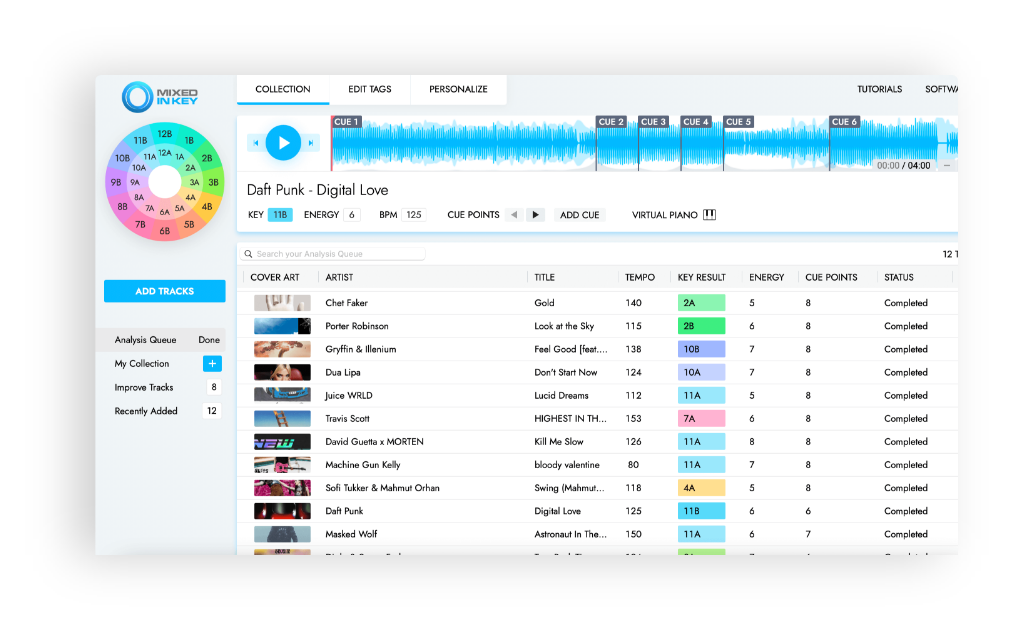 Analyze your music with the best key detection algorithm
in the world
Clean up ID3 tags
Export 8 cue points automatically to Traktor, Serato, and
rekordbox
Personalize your tags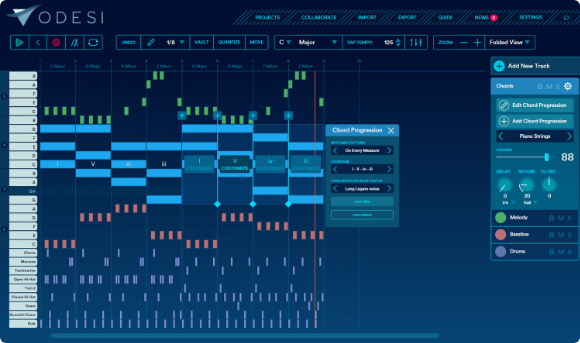 Write chord progressions that add mood to your music
Write catchy hooks
Write original basslines and beats
Detect the Key and Scale of any audio file and write a new
remix of it, using Odesi's chords, melody and bassline tools
Finish the foundation of your track, and export it to your
favorite DAW like Ableton Live, Logic, and others

Mix 100 tracks per hour
Play a masterful DJ set.
Use the best Harmonic Mixing technology.
Create great playlists & play them well.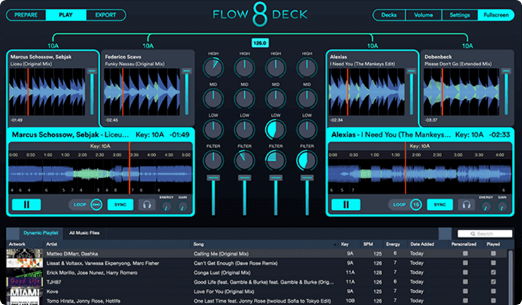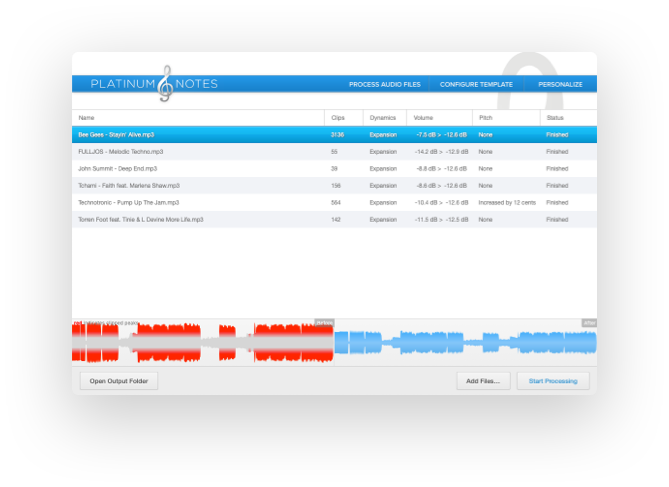 Drop in your music files. Platinum Notes will make them
sound perfect.
Platinum Notes uses studio filters to process your files. It
corrects pitch, improves volume and makes every file
ready to play anywhere – from your iTunes to a festival
sound system.
We designed it to work with music from Beatport, iTunes
and other stores. Even if you buy WAV files, Platinum Notes
will improve them.
Created by the developers behind Mixed In Key. It is
currently used by the world's best DJs.

Make mashups with your favorite MP3s
Add vocals and acapellas to an instrumental track
Make your own DJ mixes, radio shows and workout music
Build and plan DJ sets that sound good together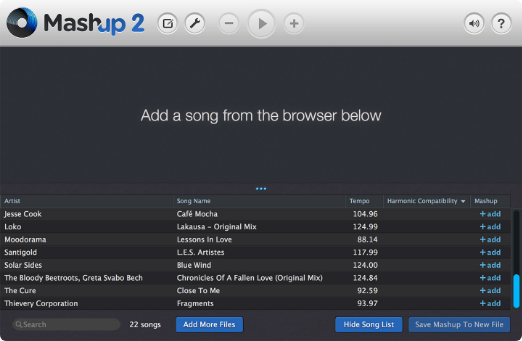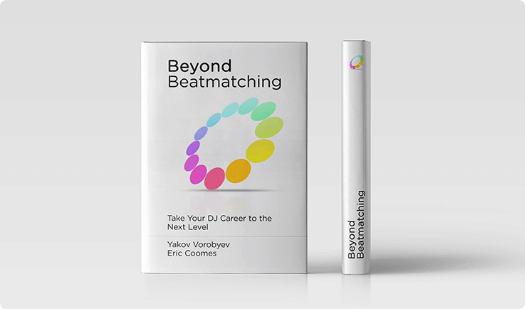 Beyond Beatmatching will show you how to:

Use harmonic mixing in your DJ sets

Mix with energy levels in mind

Dig for the most unique tracks and define your sound

Build a perfect DJ laptop

Mix a flawless DJ set
Create your own mashups
Get gigs at nightclubs and festivals
Build your brand with a logo design, publicity
shots and press kit
Use Facebook and social media to expand your audience
Top DJs and producers
use Mixed In Key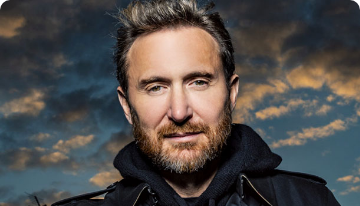 David Guetta
"I've been using harmonic mixing for many years, but I had to find the keys with a keyboard. Mixed In Key is as good, in less time. Magic!"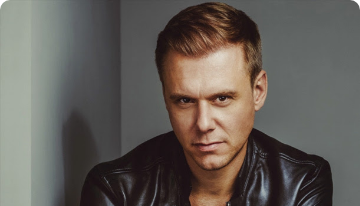 Armin van Buuren
"I'm a big fan of Mixed In Key. Keep up the good work!" – Armin taught his fans how to use Mixed In Key in his MasterClass.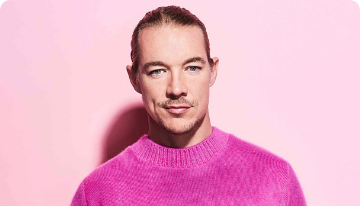 Diplo
"I`m loving Captain Plugins and I used it on two tracks. It's a super cool plugin. I just love that it promotes inspiration. It's the perfect spot to get ideas going. I'm always looking for that spark of creativity and Captain always provides that!"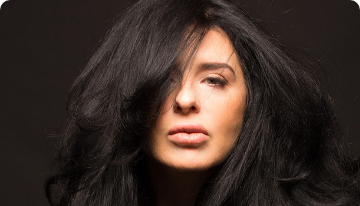 Nicole Moudaber
"Since I play with 4 decks simultaneously, I find Mixed In Key very useful especially when I play melodic and vocal tracks. Layering different drums, melodic riffs and vocals, the outcome is seamless and sounds so good with the dj style I'm into which is blending tracks, creating a continuous flow along the way"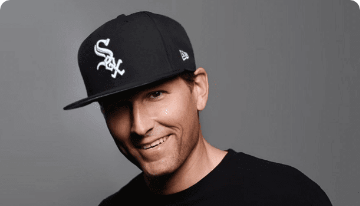 Kaskade
"Mixed In Key is a huge time saver! I use it for all my DJ mixes these days."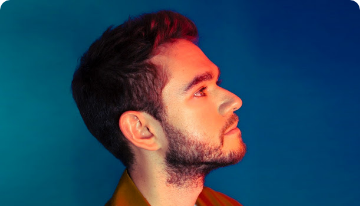 Zedd
"I love Mixed In Key for its simplicity and functionality. I always use it before I add a new song to my set to make sure I know which key it is in."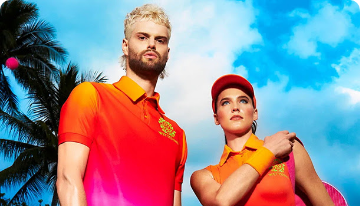 Sofi Tukker
"Mixed In Key is an essential part of all that we do. it comes into play with DJing and with producing. it's a great tool and saves us a lot of time!"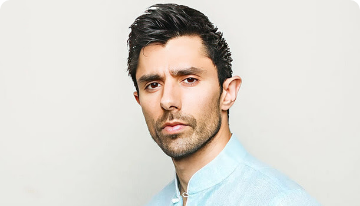 KSHMR
"Mixed In Key is the miracle for all of us."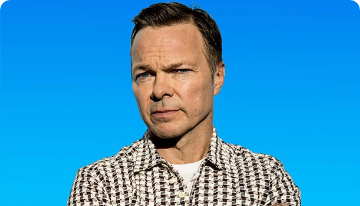 Pete Tong
"Mixed In Key has proven to be a valuable and creative tool for both radio and club programming. I'm hooked!"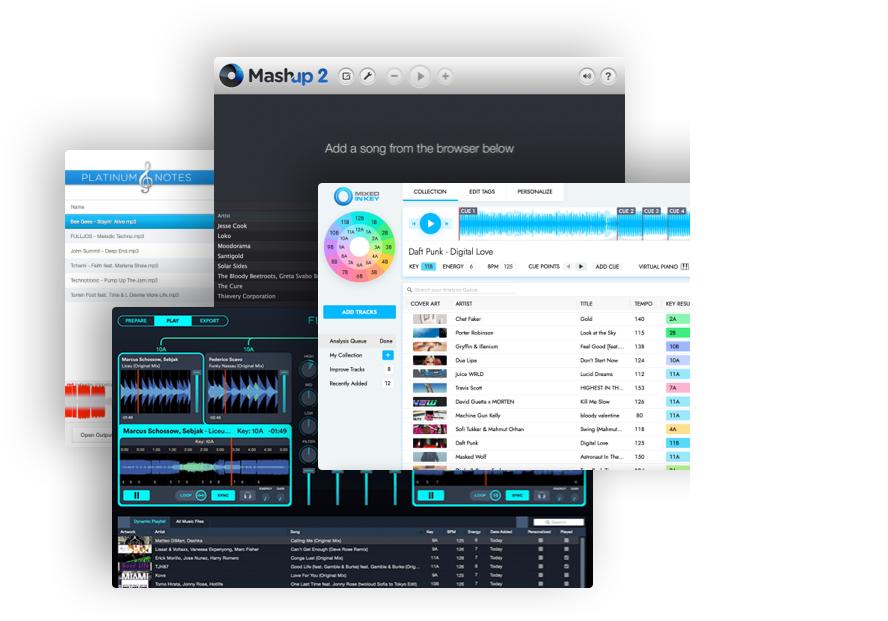 Get Your
DJ Collection today.
Buy with confidence. We give you a 30-day money-
back guarantee with every purchase.