11. Learn How To DJ in Nightclubs
Nightclubs have always played a key role in supporting and promoting DJ culture. Without venues like The Sanctuary, The Loft and Studio 54, the business of modern DJing might not be the diversified and unstoppable force that it is today. It's now routine for festival organizers, club owners, talent buyers and promoters to book huge events and entire tours around superstar DJs like David Guetta, Tiësto, deadmau5, Paul van Dyk and many more.
Modern DJing has evolved into an international business, but nightclubs are still a vital proving ground for established DJs, as well as the up-and-comers. A good DJ is always prepared to play different styles on different occasions. Whether you're opening the night to an empty dance floor or headlining a packed club, each occasion has its own demands–and this extends to recording mixtapes, entering mix competitions, or spinning live radio sets too. Every set you do is a statement about who you are as a DJ, so it's important to be diligent in all your preparations, especially when you're dealing with booking agents, talent buyers and club managers.
Your First Gig: Managing Expectations
You have to learn how to work with a variety of people to have a successful DJ career. If you're playing a club gig, your point of contact is usually the general manager. Club owners can be hands-off, or they may own multiple properties and won't be in the building every time you play.
Is the owner experienced or new to nightlife? If you're working for an inexperienced club owner, he or she might be unaccustomed to paying DJs well, or might have unrealistic expectations and be prone to making rash decisions. Experienced owners can offer more stability, with a deeper understanding of the nightlife industry and a more professional staff–all of which makes your job easier–but they might also have a formula for success that conflicts with your own. Either way, if you can help an owner make a lot of money, this will lead to more opportunities–among them, curating your own night at the club.
But first things first: Talk to the general manager before your gig, and set expectations before you walk in the door. You need to know what types of music you will be expected to play, and what to avoid (and whether, for example, there are any required or prohibited songs). You also need to understand the flow of a typical night: When does the club get crowded? What is an average night of bar sales? What does the owner consider a successful night?
Nightclubs often take on the personality of their owners, so your experience will vary. Pay attention to the way the owners advertise, the way they've designed the club, and their vision for success. And if you secure a residency, get to know the club's regulars. If you see the same people every week, it's wise to switch up your DJ set so that you sound fresh every time.
It's always smart to arrive early on gig night, especially if you haven't played the venue previously. Get to know the bartenders, table hosts, and doormen, and be polite and professional–they may help you get booked again. Most importantly, get to know the customers. They may be there to see you, but the night is really for them, and they spend the money that keeps the club in business.
How to Approach an Opening Set
Opening for another DJ can often be more challenging than headlining. An effective opening set can be the determining factor in whether a club night is successful, yet many club owners and promoters seem to overlook the importance of an opening DJ's role.
In most cases, a headliner never plays the entire night. Many events feature one or more DJs opening up for the headlining act. As the opening DJ, you need to be aware of the progression of the night and always show restraint. The key is to build up the energy gradually so you can set up a smooth transition to the headliner's set.
This is why playing a proper warm-up set can be one of the most difficult tasks for a DJ. You have to push your ego to the side, and focus on playing a balanced set that creates the right mood for the headliner. Many young DJs make the mistake of playing tracks with too much energy, or they throw caution to the wind and start playing all the hits. This almost always disrupts the flow of the night, and ends up confusing the crowd, upsetting management, and frustrating the headliner. Your career will be a short one if you approach an opening set this way.
Most of the time, you have to start with an empty room that slowly fills with people–and they're usually sober. Pay close attention to how they react to what you play, and how each track in your set affects the mood of the room. This is your opportunity to play music you love and to learn to read a crowd. It's best to think of it as a challenge; if it's an hour before midnight and you can pull a group of sober people onto the dance floor, you'll probably have no problem getting a group of drunken revelers to dance at 1:30 in the morning.
Always research the headliner so you can tailor your set according to his or her style. If you're opening for Kaskade, for example, you wouldn't play the same tracks as you would opening for Skrillex. (And remember, you should never play any tracks produced by the headliner during your set.) The challenge is to get different crowds dancing while complementing the main act at the same time.
Regardless of whether there are three or 300 people on the dance floor, you're getting paid for a specific job. The club depends on you to create an atmosphere, keep the crowd entertained as the alcohol begins to flow, and fill up the dance floor slowly so that it's full when the headliner begins. If you're playing bangers at 11 o'clock for an empty dance floor, the headliner has nowhere to go but down. You may think you're showcasing your skills to a club owner, but you're really just showing your inexperience. Prove yourself as a strong opening DJ, and you'll get booked again–maybe next time as a headliner.
In the end, it's wise to look at the opening set as a vehicle for developing your personal style as an artist. Successful club owners and event organizers have always recognized that a reliable opening DJ is vital for preparing the foundation of a great show. If you make it clear that you're a music lover who's prepared to play for any audience, you'll be in demand for more gigs.
The Art of Headlining
Once you've mastered the opening set, you're ready to headline your own night. As the headlining DJ, you'll be responsible for playing the hottest songs during peak time at the club. You'll have to learn how to read the crowd so you can adapt accordingly. Are people dancing and having fun? Are they buying drinks? If you're keeping the bar busy, you're keeping the club owner happy.
You can't be a headliner if you don't have a stage presence. The crowd feeds off your energy, so if you look bored, you'll lose them. When laptop DJing started going mainstream in the mid-2000s, the joke among disgruntled fans was often "The DJ is checking his email!" Always make eye contact with your audience and take in what's in front of you on the dance floor instead of staring at your laptop all night. DJing is all about interacting with the crowd–not hiding behind a laptop screen.
To prepare for your headline gig, do your research on the club first, and then set up a meeting with the club owner, manager, or promoter to discuss what's expected. Listen to the music DJs play there, and keep tabs on the crowd's reaction. It's also smart to talk with the bar staff and find out the general mood and tastes of the people who frequent the club. Information is power; if you prepare for your set with this in mind, you can avoid surprises later and focus on connecting with your audience.
Club Lighting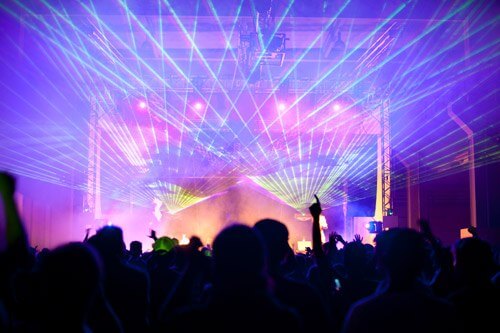 A well-designed lighting system has a huge impact on a venue. The biggest festivals and best shows often coordinate changes in lighting patterns with the DJ's music.
Premier club venues have lighting operators who can customize the atmosphere to reflect the music of the moment. But many beginning DJs don't have the opportunity to play regularly in venues with lighting engineers. As you get started, familiarize yourself with the lighting console available at your venue. Experiment with the lighting effects before the club gets crowded, and pre-set some lighting routines if you can.
Varying the light system's groupings and intensity can add ambiance, set the mood, and boost the energy. Lighting is not just about repetitive strobe effects. Intelligent lighting instruments can pan, tilt, focus, dim, color, and shape beams. Specific colors can even influence mental states; red is a warm color, blue is cool, and green is calm. Part of a venue's success rides on how well you can integrate these lighting elements with the music to create a coordinated experience on the dance floor, so if you're working with a lighting operator, make sure to meet beforehand to work out some routines.
Next: Interview with Biz Martinez