How to Route MIDI through Satellite MIDI: Ableton Live
You can route a MIDI Instrument channel to send the MIDI it is playing directly through Satellite MIDI and into Satellite Sessions. The exact way to do this varies between DAWs, and since it's a little more complicated, this method may not be suitable for less experienced users.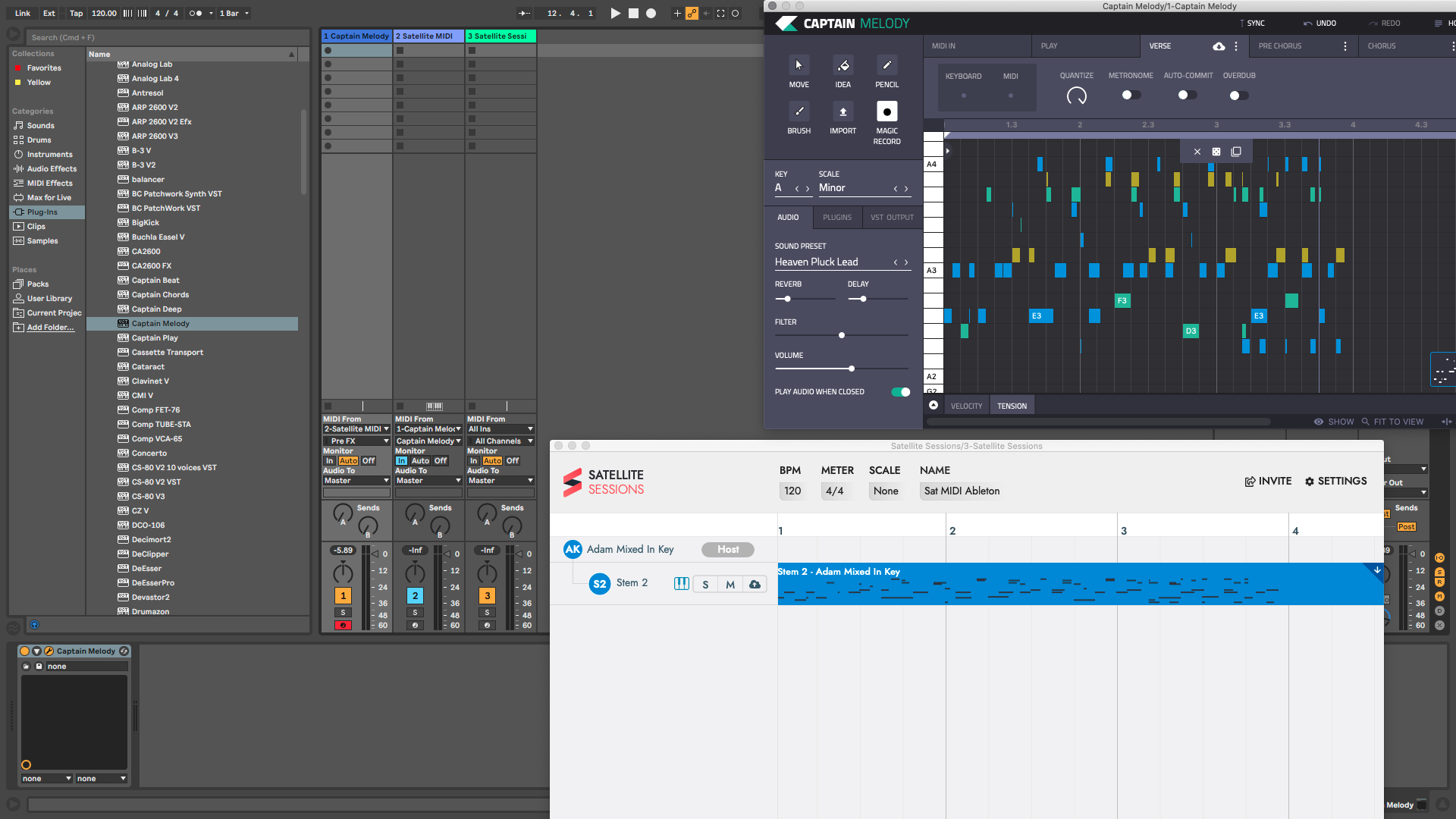 In all DAWs, Satellite Sessions must be added first to a blank, new MIDI channel. You can then route MIDI directly into Satellite Sessions via Satellite MIDI, by following the steps below:
Ableton Live:
1. Create a VST or External Instrument channel. Note: AU Instruments can't be MIDI routed, so don't use AU.
2. Add your VST Instrument and/or route your MIDI device to the channel. This is your Instrument channel.
3. Create a new, blank MIDI channel.
4. Add Satellite MIDI to the new channel as an AU or VST plugin.
5. Name your MIDI Stem in Satellite MIDI.
6. Important! Enable Input Monitoring so that Satellite MIDI is 'listening' to your MIDI input.
7. In your Satellite MIDI channel, change the MIDI settings as pictured:
In this example, the Instrument we are using is Captain Melody. Therefore, Captain Melody is set as the MIDI Input on the Satellite MIDI channel.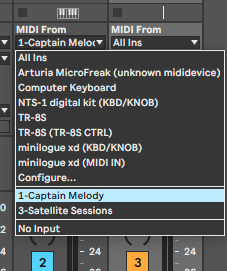 Enable Captain Melody in the Pre-FX/Post-FX menu directly below the MIDI Input menu.
To complete the routing, set the MIDI Input for your Instrument channel to Satellite MIDI.
These steps will work with any VST or External Instrument.
8. If you wish, open Satellite Sessions to confirm that a MIDI Stem track has been created. The record icon should be illuminated red.
9. Now, press play in your DAW to begin recording.
10. Play will trigger a MIDI clip on the channel.
11. You can also capture MIDI in Satellite MIDI by playing a MIDI keyboard/controller.
12. The MIDI you play through your MIDI Instrument is captured by Satellite MIDI and will show up in Satellite Sessions in seconds.
13. All members of the session with VIP, VIP+ or Co-Host privileges can now download the MIDI into their own DAW for playback.
14. They can also edit the MIDI and re-upload it to the Session!