The Best VST Instruments 2021.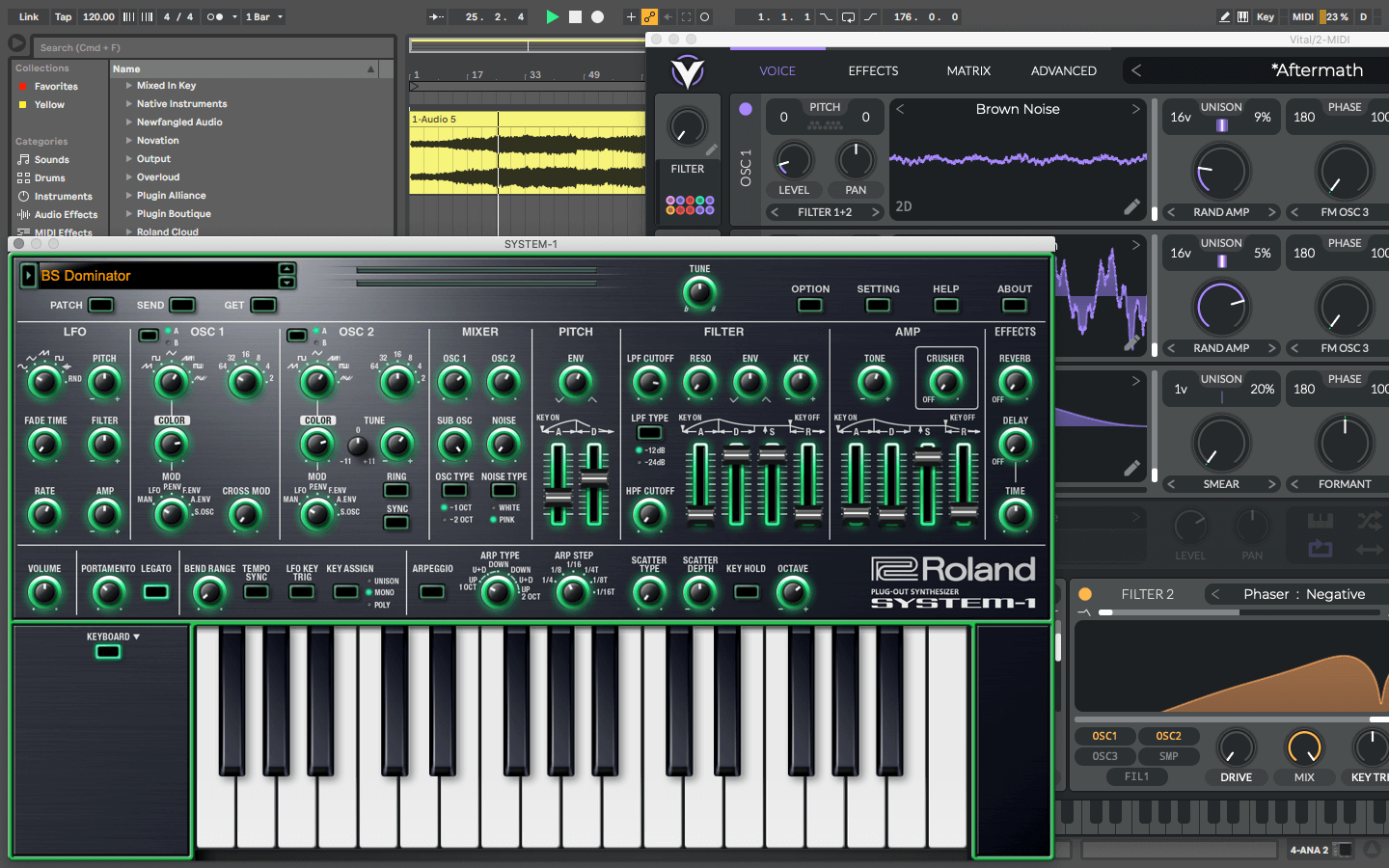 Thanks to increasing demand and technological advances, today's market is flooded with the kinds of plugin instruments, FX units and time-saving software that would have been seen as impossibly advanced just a few years ago.
While 2020 may go down as the worst year since wartime, one upside is the blooming music production eco-system. There is now an extraordinary wealth of incredible plugin instruments available to the everyday music producer. While totally awesome, it can make it hard to choose the right ones. We dig deep to find the best VST instruments for 2021.
[the_ad id="8176″]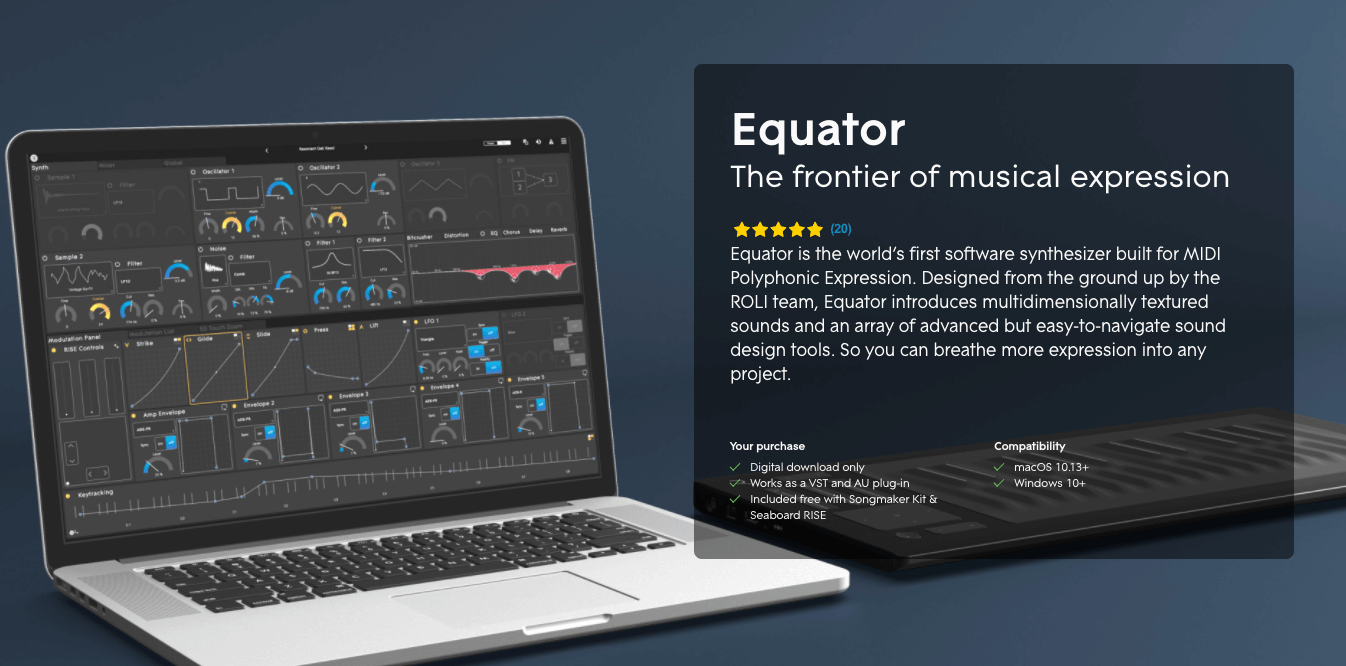 The pioneering developers behind ROLI have been busy. Not only creating a range of MPE-enabled expressive controllers such as Seaboard, they have also crafted a stunning polyphonic VST Instrument to boot. It's clearly designed for use with ROLI hardware, but is nevertheless a breathtaking synth in isolation.
In essence, it's all about modulation. So while you have 3 oscillators, a multitude of FX, LFOs, waveshapes and all manner of envelopes, plus sampler instruments galore, Equator comes to life when you start patching modulation sources. Suddenly simple synth sounds start to evolve and augment in weird and wonderful ways. Apply modulation to aftertouch or an MPE keyboard and a world of intesnse expression awaits, transforming the routine into the radical!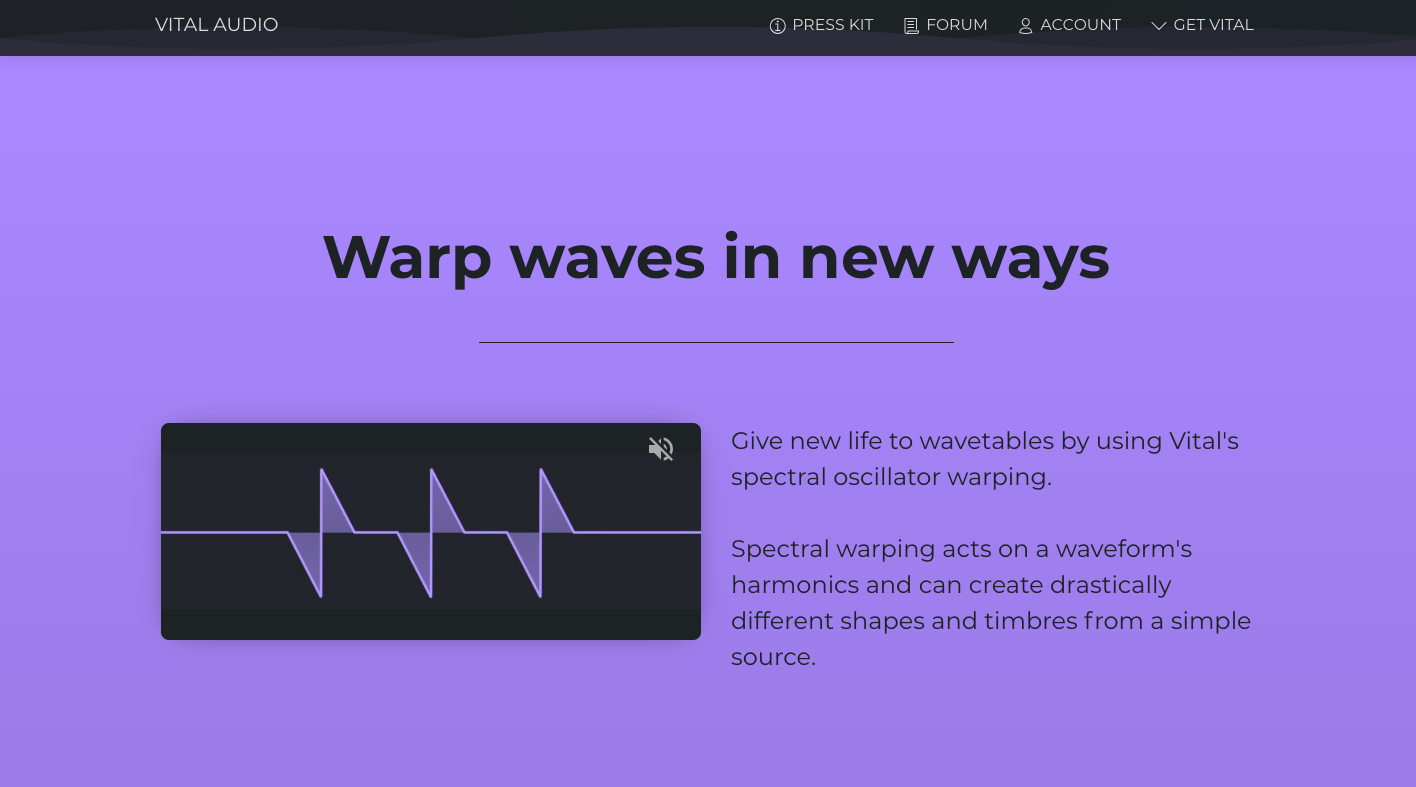 Modulation could be the name of the game for 2021's synth winners. Alongside impressive modulation developments within Ableton Live 11, and the above-mentioned Equator, Vital Audio must be reckoned with. Combining wavetable synthesis with spectral modulation of every conceivable parameter, it's visually arresting, and capable of intense, evolving digital synthesis. It's wonderful for adding textures to tracks, and can also produce intricate and idiosyncratic leads, basses, pads and much more. Think of it like adding a polyphonic sequencer to each oscillator, with each step being a remapped modulation source attached to any synth parameter of your choice. Wild.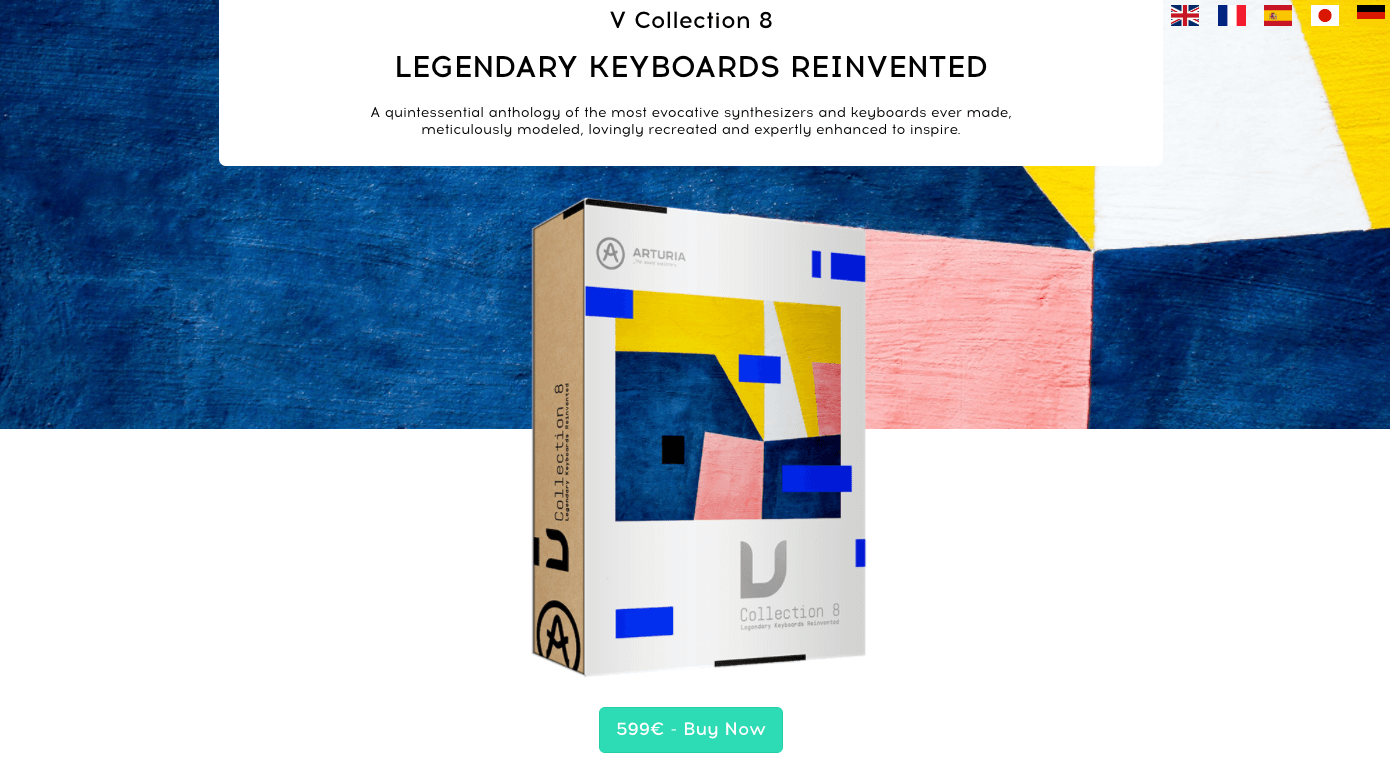 Looking back to move forwards is sometimes a shrewd move, particularly in music. So if you're in love with the sounds of classic synths, pianos and organs from yesteryear, such as the Minimoog, SEM Oberheim, Roland Juno-106, Buchla Easel, ARP 2600 or just about any legendary synth you can mention, Arturia V Collection could be everything you need. There are more legendary synths to choose from than you could shake a stick at, even if you had a stick-sjhaking machine and an endless supply of miltary-grade twigs.
In the 8th instalment in the heralded V Collection Arturia have improved the accuracy of synth engines throughout, while adding new legends to the offering:
Juno 106.
Emulator 2.
Juno 106.
Oberheim OB-Xa.
Emulator 2.
Vocoder V.
Jupiter 8 v4.
These new additions to the collection open up the sonic spectrum to incorporate a vocoder, another Roland classic, a filth-machine in the form of Oberheim's OB-Xa, crunchy sampled weirdness and a much improved update to the Jupiter 8. The Jupiter being one of the most iconic of all legendary synths that, up until now, Arturia have struggled to totally nail. The wait may now be over!
In addition, there is an update to Analog Lab, which offers a great value way of accessing the patch library of the entire collection for a fraction of the price.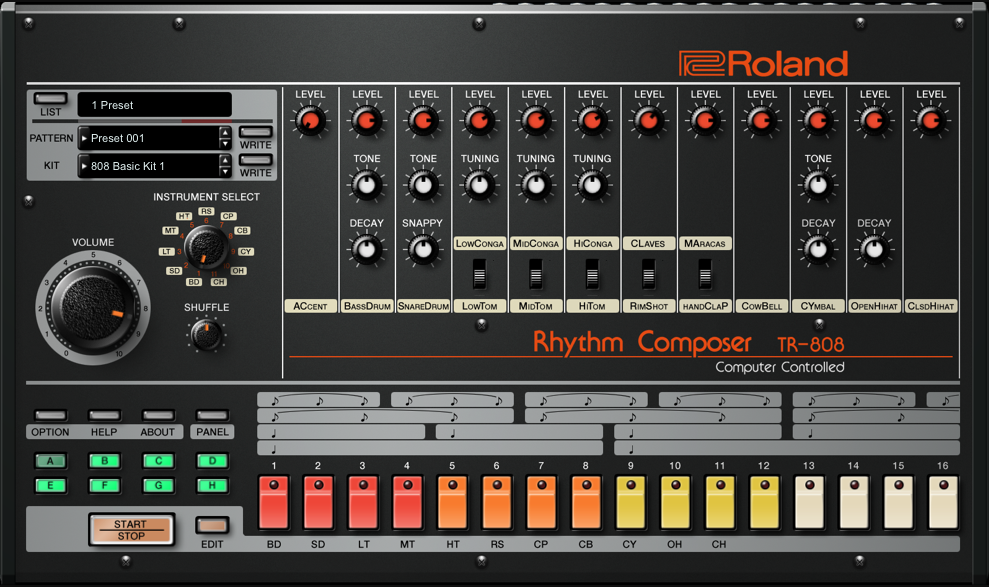 For most electronic producers and knowledgeable dance music fans, names such as TR-808, SH-101 and Juno-106 are household names. Many of dance music's early hits were produced using these classic machines. A Guy Called Gerald 'Voodoo Ray' being a notable example.
Unfortunately, most of these classic units were discontinued in the 80s and 90s, and now fetch astronimical prices.
Cue, Roland Cloud.
What is Roland Cloud exactly? In short, a range of instrument plugins designed to look and sound exactly the same as the classic models. In Roland Cloud they are referred to as the Legendary series. Additional synths are split into several categories such as Essentials, Flavr and AIRA. Roland have also added some new excellent new features to the instruments not found on the originals. Being cloud based also gives the ability to push-out updates and new additions to the plugin range, at no extra cost to the user.
How do they sound? In one word, amazing! It should be noted that 100% replication of an analogue synth through software emulation is impossible. However, due to these new plugins featuring the same Analogue Circuit Behaviour (ACB) technology Roland developed for the Aira and Boutique range, they come as close to the originals as the new hardware offerings. It would be fair to say that most people agree that the new hardware models sound extremely close when compared to the original models. Another stand-out feature of these new plugins is the ability to load them directly into the Roland System-1 and System-8 keyboards. Named 'Plug-out', this inventive feature means you can take any of the new soft-synths on the road by loading them directly into the System-1 or System-8. No connection to your DAW or laptop is required once loaded.
If you're a fan of Roland's classic synths and drum machines, then I would highly recommend adding Roland Cloud to your studio.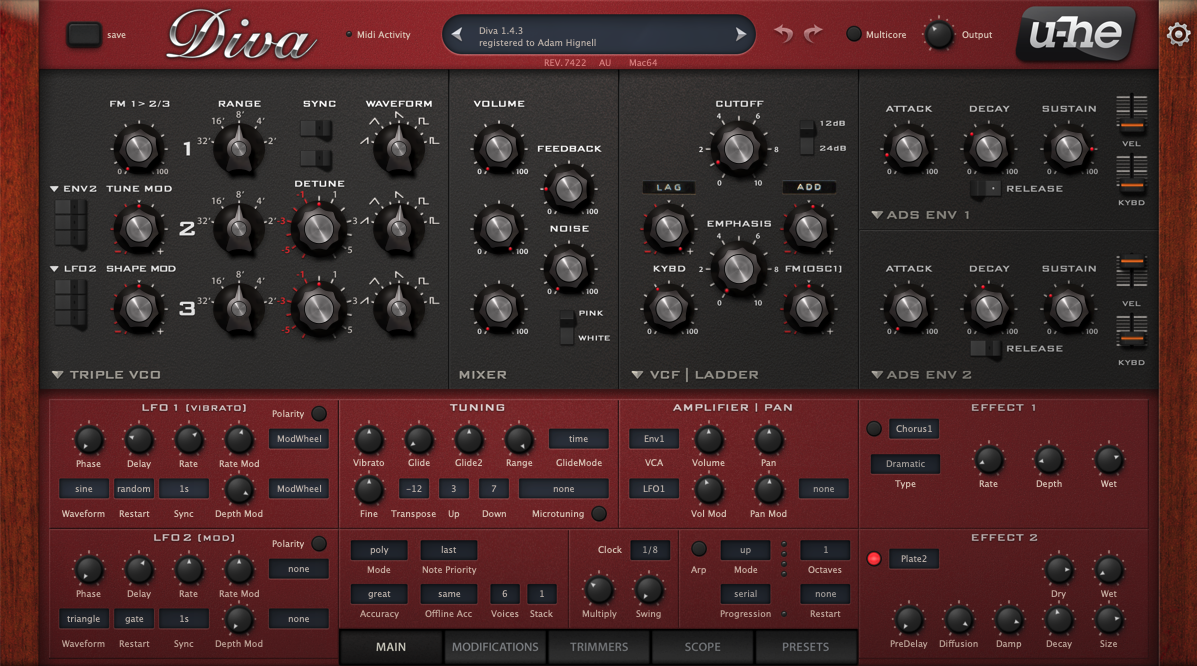 U-He have taken a less literal approach to classic sound emulation, in that their Diva synth isn't designed to look like any one particular synth. However, it is capable of sounding like dozens of such classics.
That's because U-He have focussed on sound design and sound modelling above all, which is great for the user, so long as they're not overly familiar with the layout of the originals. By utilizing a module-based UI, it's possible to select classic sounds from presets, or patch between modules to create entirely new sounds.
Perhaps due to the relatively cluttered UI, it may not be the easiest VST synth for the beginner to program. However, if power, great sound and limitless sound design is your priority, U-He Diva is a fabulous option.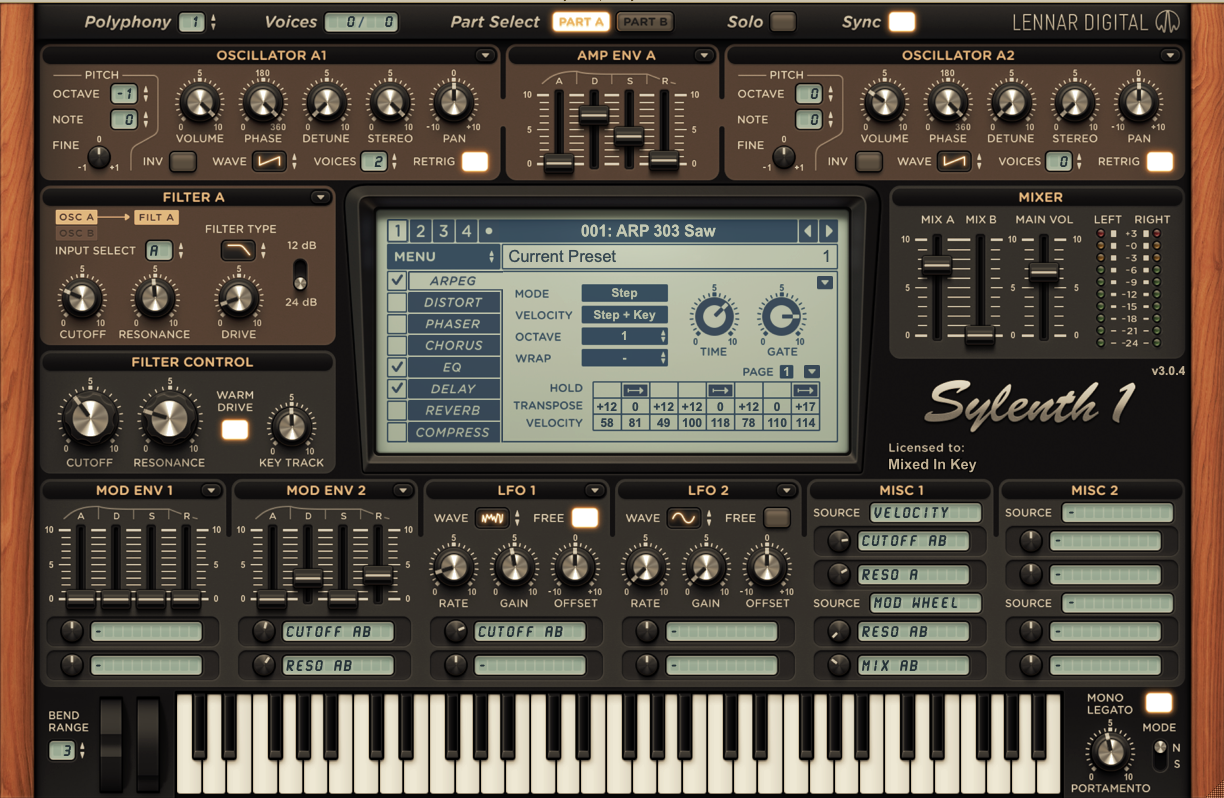 Simple, easy to operate, and capable of anything from stomach-churning sub-bass to wild SFX, soaring leads and thumping percussion. Sylenth is a VST Instruments that you could legitimately produce an entire album on. As such, it ticks a lot of boxes for modern producers: Simple interface, one-page design, excellent value for money and versatility.
The interface is nice and clean, easy to read and inviting, albeit perhaps a little dated looking. But the main draw is the clean and precise voices and multiple, stacking oscillators. Much care has been taken to give Sylenth an analog-sounding engine, and the same can be said for the filters, which are grizzly and biting, without digital harshness. 2 ADSR envelopes and 2 LFOs aren't the most generous of modulation capabiliities, but the sound is so good that it's not something I've ever really lamented. If you're after virtual analog with easy customisation, Sylenth is a great shout.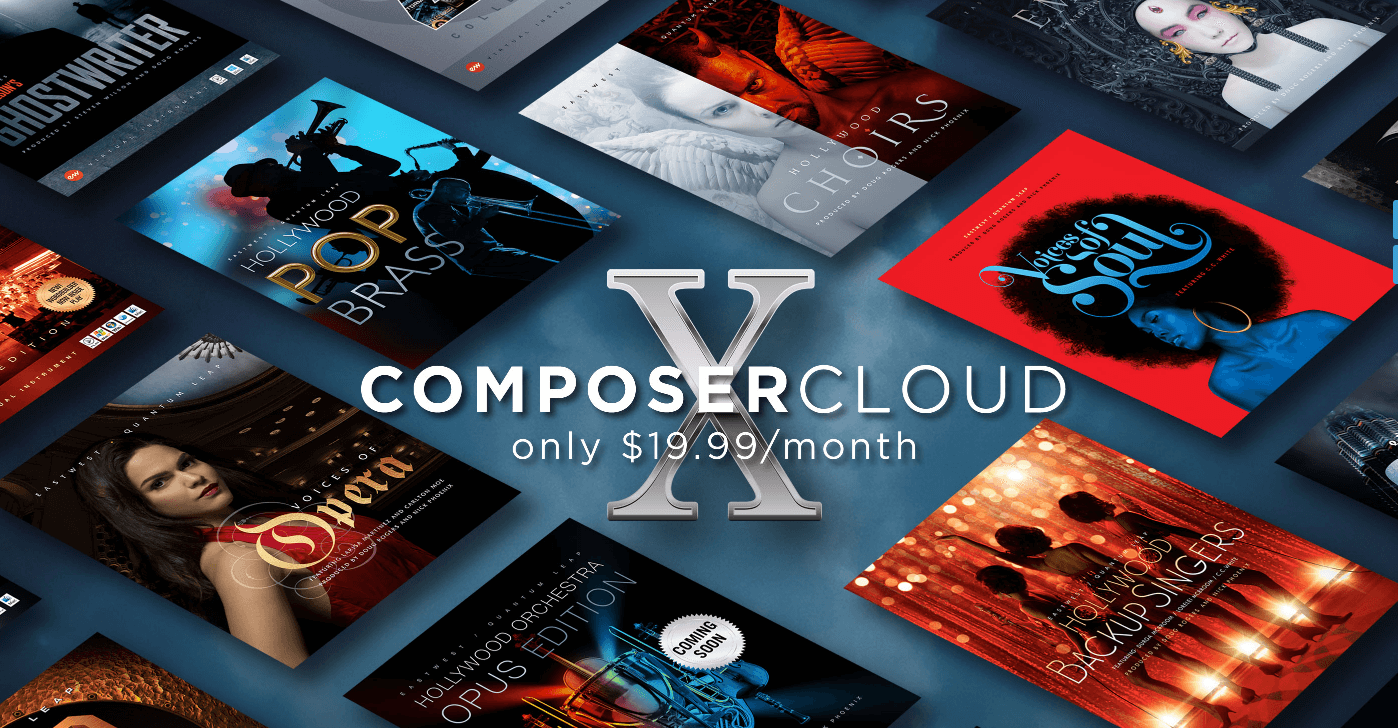 EastWest ComposerCloud conmes with over 40,000 award-winning instruments including 3 million samples, phrases, and FX. With 67 full collections plus upcoming new releases such as the Hollywood Orchestra Opus Edition, Hollywood Orchestrator, and Opus software it offers an unrivalled selection of realistic instrument sounds. Ranging from all manner of orchestral sounds to drums, guitars, pianos and much more, this is a stunning package for anyone after 'real' sounds.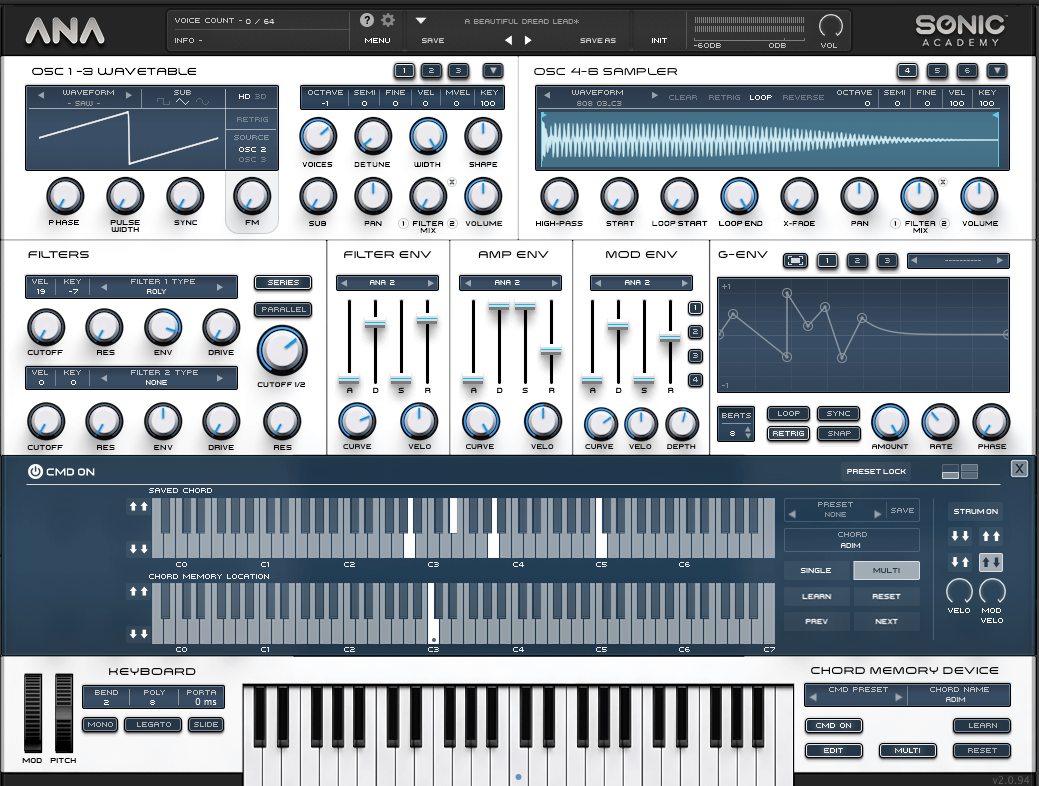 Partnered with Slate Digital, a company rightly renowned for their superior range of processors and effects, Sonic Academy have something a little special in ANA 2.
Packed full of features, including unexpected bonuses like sample and wavetable import, waveform visualisation and a 64-note polyphonic sequencer/arp, ANA 2 is a powerful, capable workstation VST Instrument. If you're looking for an all-in-one synth, capable of beefy low-end, creamy leads and enveloping pads, this could be the best value option around.
With 24 FX tools, a very useful big-screen graphical overview of ANA's 3 envelopes, a powerful Modulation Matrix, and a chord mode, there's almost nothing ANA 2 can't do. Fortunately, it also sounds really good, too. I particularly like the easy-to-use envelope shaper and the ability to add my own samples as a synth voice. While many of the presets do enable vintage sounds, I find ANA 2 excels at experimentation and novel sound creation. And at under $150, it's a steal.
[the_ad id="8177″]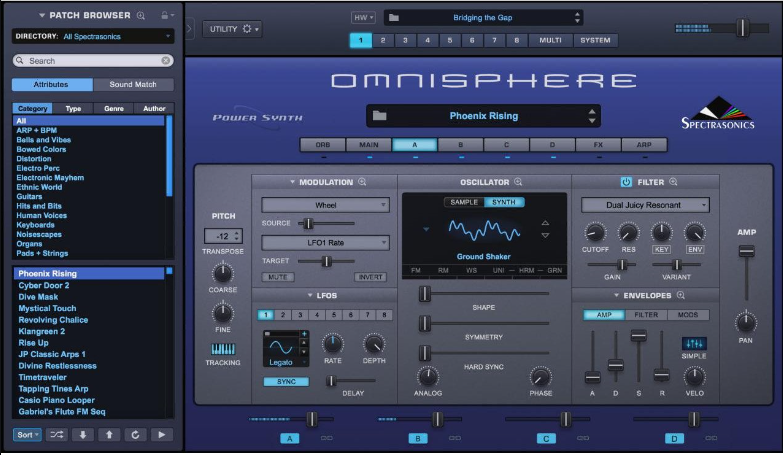 Omnisphere 2 swaggers into the list, knowing full well it's already the go-to VA synth of thousands of top industry professionals and artists across the globe. Offering unrivalled power and effortless sound design capabilities, Omnisphere is a revered, almost mystical name in the world of VST Instruments.
My guess is they called it Omnisphere because it combines pretty every much every possible type of synthesis, from granular and additive to subtractive, wavetable and audio sample-based synthesis. 58 Effects, 4 layers per patch, a 'doubled' Modulation Matrix and an impossible number of wavetables and patching options mean you'll never run out of inspiration.
Omnisphere also boasts a very cool 'Hardware Integration' mode, by which dozens of the most popular hardware keyboards can automatically map to Omnisphere's engine for instant hands-on fun.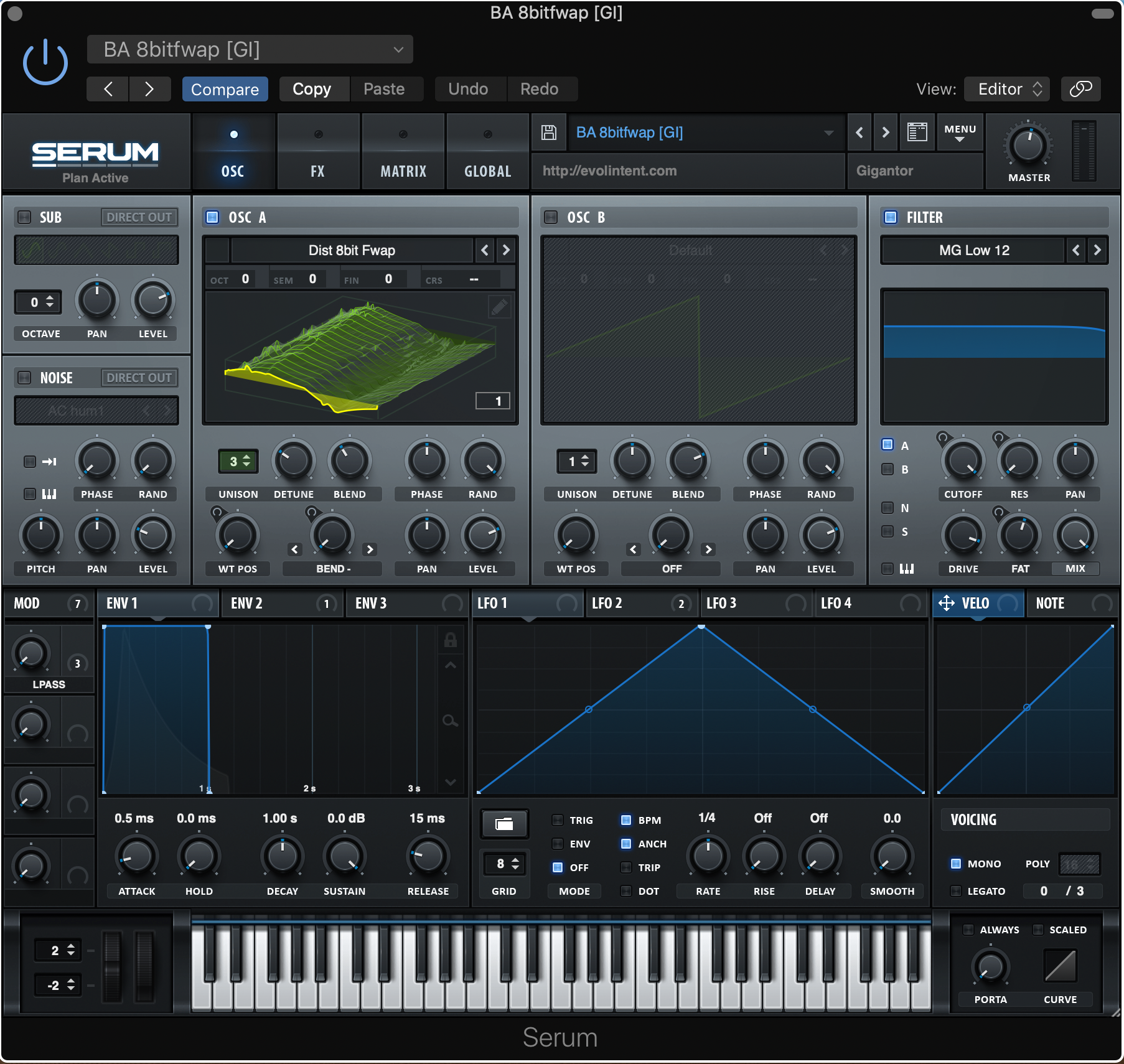 Another big name in the game, Serum is a mainstay of the electronic dance music producer and sound design afficianado. Its pioneering approach to wavetable synthesis offers users the power to customise, build and import thair own wavetables, to then apply to the powerful synth engines, or indeed their own audio samples. (The aforemmentioned ANA 2 has clearly taken a nod from Serum here, offering a broadly similar wavetable editor and the ability to import wavetables directly from Serum.)
Since I'm no wavetable synthesis expert, I'll leave it to Serum to explain why they believe their engine is superior: "In Serum, the native-mode (default) playback of oscillators operates with an ultra high-precision resampling, yielding an astonishingly inaudible signal-to-noise ratio" – which basically means their engine cancels unwanted artifacts better than the competition… a good thing if you want big, clean sounds. Furthermore, Serum offers a fun and easy-to-use method of patching modulation – a drag and pull method similar to Massive X by which you can assign modulation controls to all manner of sources in seconds.
Another attractive aspect of Serum is its Unison stacking mode – you can add 16 additional voices to any given note, and have each of the 16 unison voices behave differently, or the same but play different octaves, thus allowing for truly gargantuan sounds, or intense swirls, sweeps and glitches.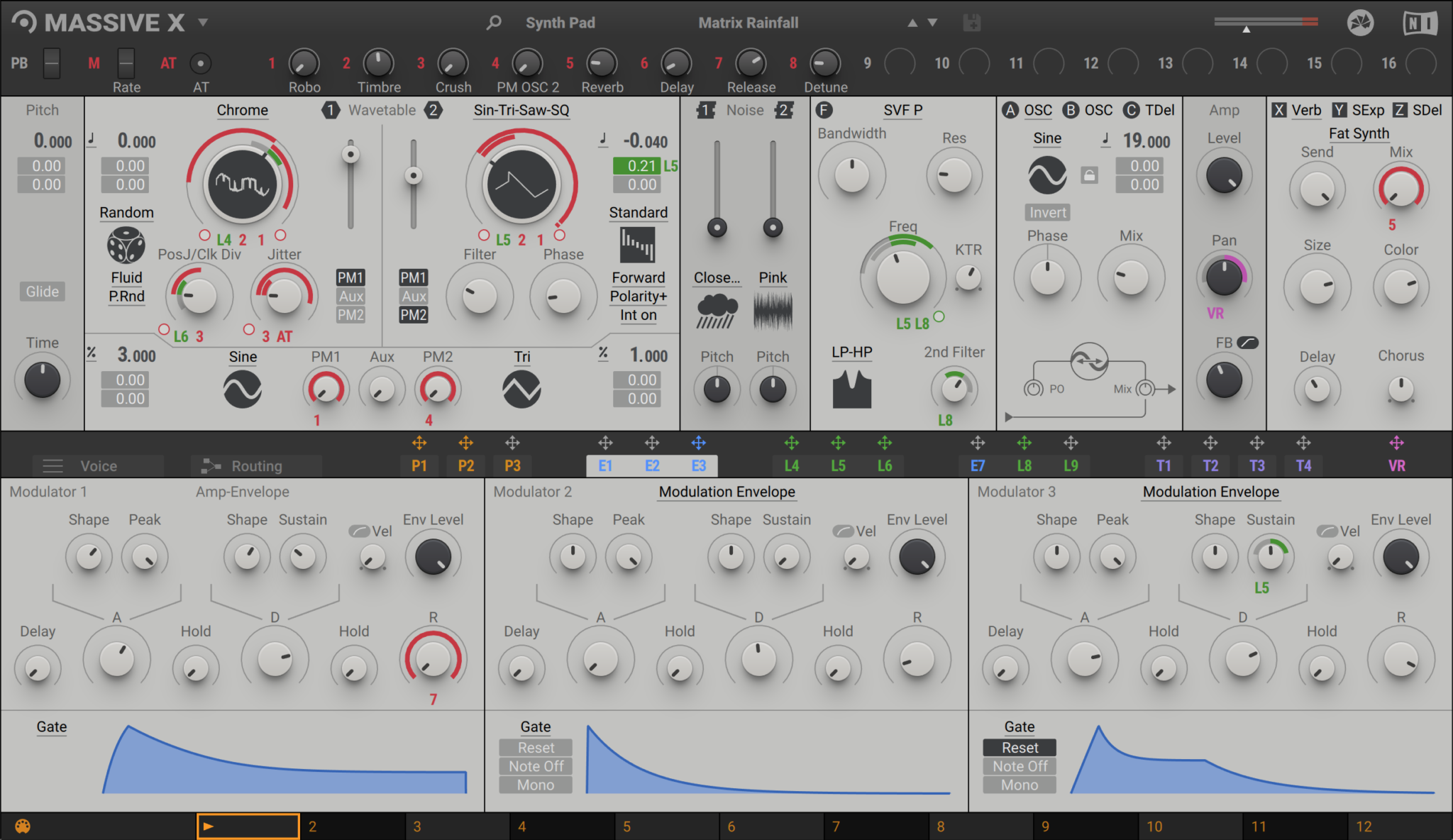 Now in its 'X' incarnation, Massive was a game-changer from the get-go. By simplifying a traditional synth user-interface and focusing on usability, it quickly established itself as a go-to for bedroom producers everywhere. Extremely powerful and capable of monstrous bass, artists like Skream and Skrillex found Massive a perfect weapon of mass dancefloor-destruction.
It's not just a bass-face, either. A sophisticated and unique wave-scanning engine, 3 oscillators, 16 voices, a one-page visual design and enough patch-points to create any sound imaginable, Massive is a favorite among FL Studio producers. A lynchpin of Dubstep, Trap and Tech-House, it's a synth you've heard in countless bangers.
Composition and Collaboration Tools
Captain Plugins by Mixed In Key presents a unique and intuitive way to aid music composition. There's a plethora of plugins on the market designed to create or effect sounds within your DAW. However, until recently, the availability of music composition plugins to assist in music theory have been limited.
Music theory is a complex and often 'mind boggling' science, and with so many other aspects to consider when producing music, it can often be an area of knowledge which is overlooked. Luckily, for those who are not classically trained in music theory, Captain Plugins offer an intuitive and fun way to produce stunning chord progressions, basslines, drums and melodies; while increasing your workflow, allowing you to spend more time on what matters most, making music.
Captain Plugins comes complete with five plugins for a one-off payment of only $99. These are named Captain Chords, Melody, Deep, Play and Beat and they'll help you with every aspect of your songwriting. They also connect to each other within your favorite DAW to make sure you have full control over rhythm, tension and more.
Captain Plugins is a must-have for any producer who wants to improve their songwriting skills.
Quite simply the most sophisticated audio collaboration tool on the planet. While yes, we are biased, we just love the simple, easy to use interface, and the fact you can share audio with anyone, anywhere. You don't even need to leave your own DAW!
With a revolutionary approach to audio sharing, Satellite Sessions will open up new worlds of sonic collaboration. It's so easy to use, the only limitation is your imagination!
About the author: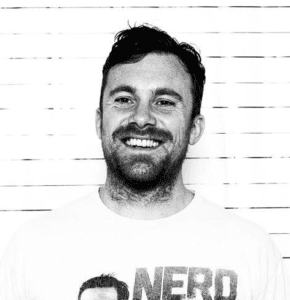 Adam Hignell is a music producer, mastering engineer, DJ and label-owner based in Brighton, UK. When not providing content and tech support for Mixed In Key, he produces music under the alias Don Dayglow, provides professional mastering and mixing services, and runs the independent Disco/House label Particle Zoo.
Write Your Own Original Compositions With Captain Plugins
It's super easy to create your own ideas from scratch. Visit the official Chords homepage and see how it will help you explore music and write your own original productions.