The Best Effects Plugins 2021.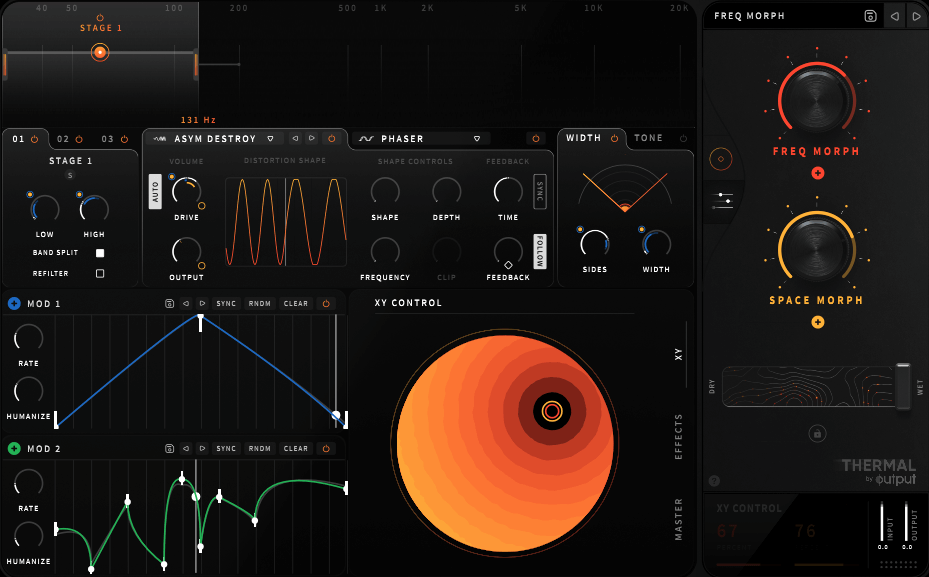 Increasing demand and technological advances make great bedfellows… and for musicians and producers it's truly thrilling to behold. The market is now flooded with the kinds of plugin instruments, FX units and time-saving software that would have been seen as impossibly advanced just a few years ago.
While 2020 may go down as the worst year since wartime, one upside is the blooming music production eco-system. There is now an extraordinary wealth of incredible plugins available to the everyday music producer, which makes it hard to choose the right ones. We dig deep to find the best effects plugins for 2021.
[the_ad id="8176″]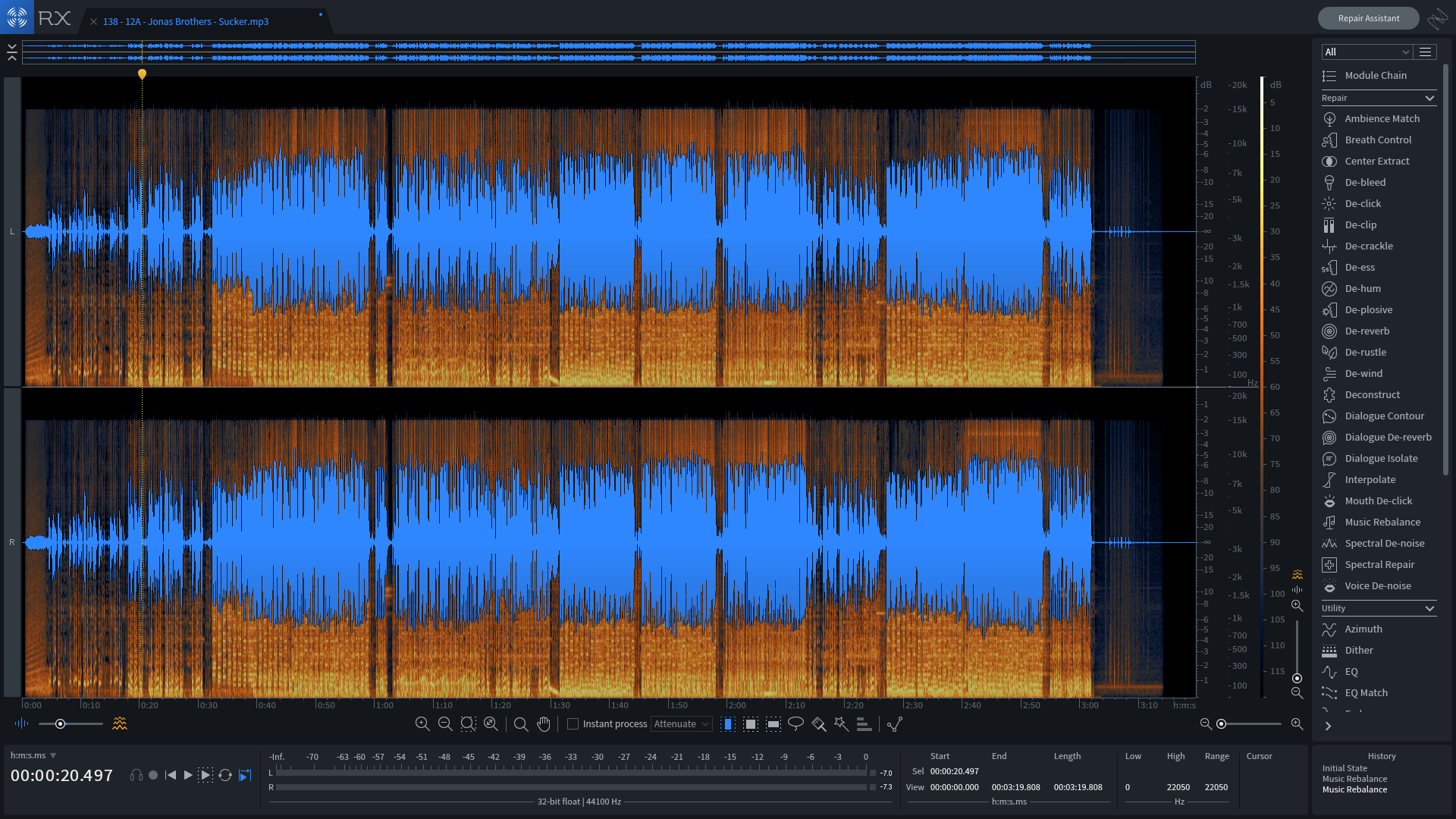 RX7 Audio Editor is standalone with an included bundle of individual audio clean-up plugins for your DAW. Ideally suited to both production and post-production, RX-7 comes with some really unique, stand-out features.
Fix clicks, pops, hum or noise effortlessly with Repair Assistant. Music Rebalance allows the separation and individual level control of vocals, bass, percussion and other instruments. This means you can rebalance existing pre-masters – even with no multi-track available! Or, strip away parts from existing songs to create vocal acapellas, instrumentals or stems to use for remixes, mashups or DJ sets.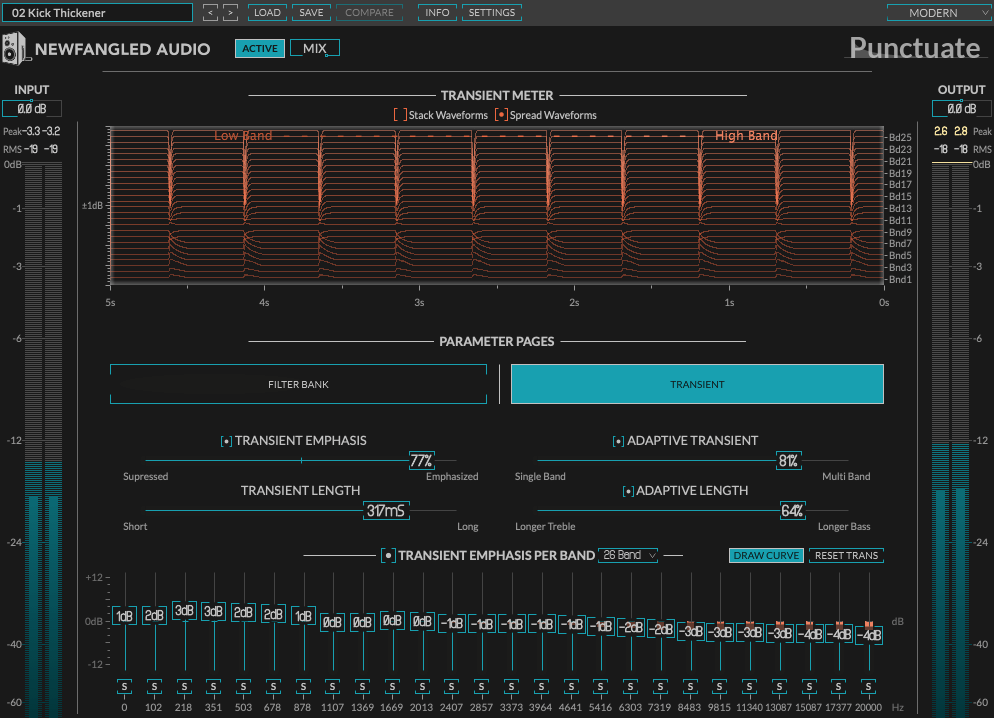 A new company with a rich pedigree, NewFangled Audio has burst onto the scene. Their developers were senior designers at Eventide, which suggests great things in store. And NFA doesn't dissapoint. They've released a range of instruments, processors and effect units that each have something unique about them, to match exceptional performance and sound.
Elevate, EQuivocate & Punctuate.
3 separate plugins with a shared architecture based around a unique 28-band frequency division. By allowing up to 28 frequency divisions of the incoming audio signal, each plugin can process audio with extreme precision and control.
Elevate is a Limiter, EQuivocate a 'human-ear modelled' EQ, and Punctuate a Transient Shaper. Each one is powerful, sounds great and is capable of professional processing in an easy to use, attractive UI.
Elevate.
A totally unique limiter. With up to 28 frequency bands that can be individualy calibrated and adjusted, plus a beautiful limiter algorithm, Elevate is a professional mastering standard tool. With such fine control of the frequency bands and amounts that the limiter affects, plus a filter bank, you can achieve multi-band dynamic processing with a far more natural sounding result. Elevate allows you to fix specific audio issues or just accentuate particular frequencies, without compromising the tonal balance of your work with a straight EQ.
To boot, it boasts an AI-style 'brain' that adapts the on-board Maximiser, Transient Shaper and Multiband EQ to respond intelligently to your music.
EQuivocate.
This is essentially the EQ from Elevate, yet with added features such as Match EQ. With its unique algorithm purported to be based on the human ear, and a precise, easy to use interface, it excels at mastering EQ work for bringing out certain sounds in a mix.
Punctuate.
Punctuate makes a full plugin out of a neat trick mastering engineers have long used. Because transient shapers affect the whole signal, emphasising the transient in a drum, for example, can also emphasise other frequencies unneccessarily. By combining a filter/EQ with a transient shaper, only the specifically desired frequencies can be accentuated, or reduced, depending on how you're applying transient control. It's easy and intuitive. Plus, once you get used to the multiband approach on one plugin, using the others makes much more sense.
Saturate.
Saturate is, you may have guessed, a Saturator. It eschews the 28-band filtering of the other plugins, and opts instead for a super simple, clean interface with 3 bespoke saturation modes. It also boasts Drive control, Clip Style and Detail Preservation amount, meaning you can veer from subtle warming to total destruction in seconds! Saturation plugins usually have their own distinct tones, and with Saturate, you get a rich and warm tone as you apply it lightly, that can then become snarling and venomous as you increase the heat.
Despite only owning them for a short time, I'm already employing these plugins in most of my mixing and mastering work. There's a new kid on the block!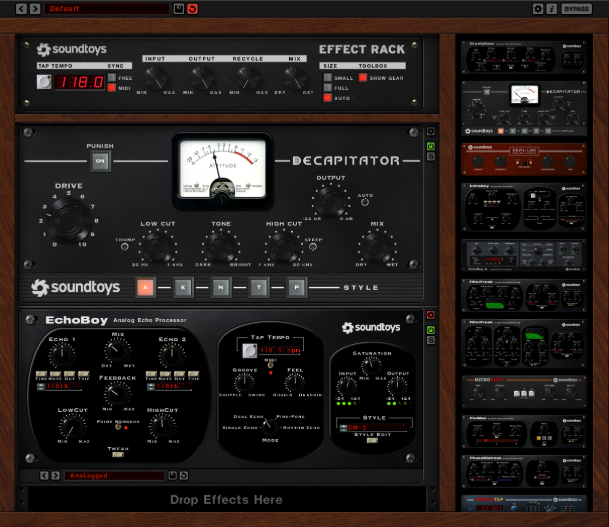 When it comes to studio effect plug-ins designed to warp and mangle audio, there seems to be endless choices available on the market. I stumbled upon Soundtoys by chance and was delighted when I loaded them into my effect insert slots and heard the results.
Recommended to me by a producer friend, I added the latest bundle to my ever expanding list of plug-ins. Firstly, with no less than 20 plug-ins contained within the bundle, it would be impossible to react to all of them for this feature, so I'll stick to the highlights. These fantastic plug-ins bring colour, character and creativity to your digital music studio. They merge the sound and vibe of classic analogue gear, with modern and musical twists. The results being limited only by the imagination of the user.
For crazy and spaced out delays, 'Echoboy' offers tons of tweaking options. Or for those throaty formant-shifted vocals, akin to many current 'Deep House' records, the aptly named 'Little Alter Boy' delivers a fantastic effect. If you like kick drums distorted and harsh then look no further than 'Decapitator', with its 'punish' setting!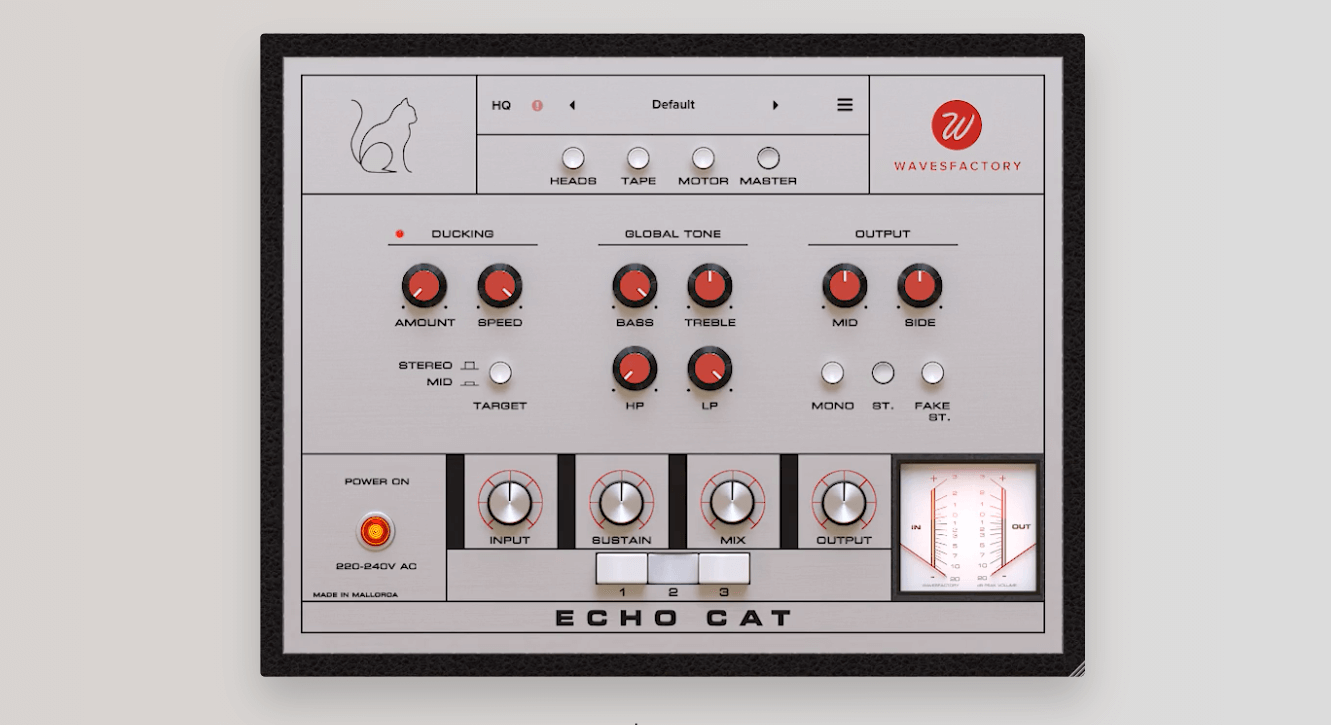 The world isn't short of delay plugins, but in Wavesfactory Echo Cat, there's one of absolute beauty. They've achieved something many others have failed to – an authentic sounding delay unit that has the tone and character of a legendary analog device. It has three tape heads which can be individually controlled, leading to sweet and creamy delays and echoes. The presets are amazing, and capable of stunning effects. EchoCat has instantly become my go-to delay plugin!
Another relative newcomer, Output have a "freethinking and innovative approach to plugin design" (Sound On Sound). With some impressive Kontakt instruments, they've turned their attention to FX plugins, and the results are predictably impressive.
Thermal.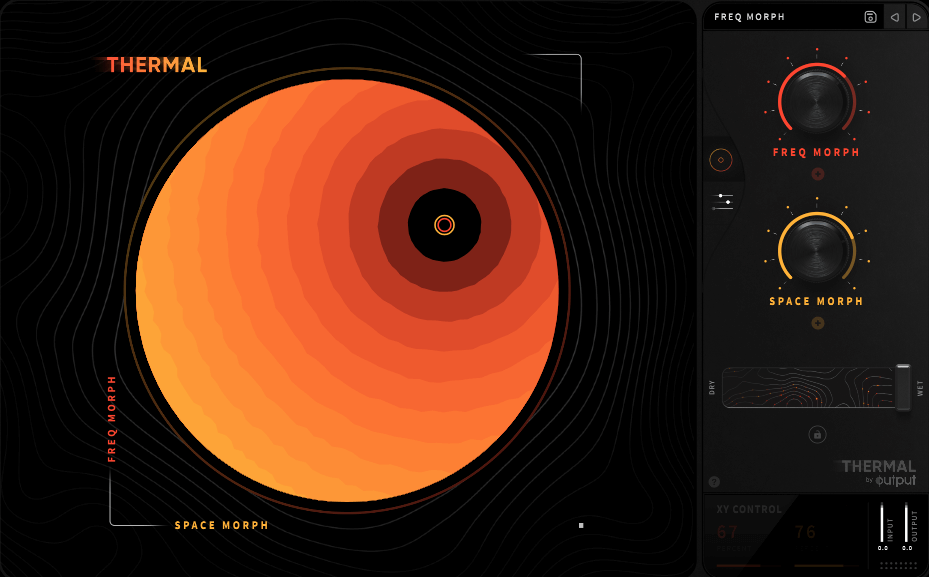 A pioneering, interactive and hands-on control interface helps users shape a precise saturation sound. Each preset has multiple modulation devices working in tandem, which can then be controlled by an attractive macro controller, plus amount and Dry/Wet ratio. You can get deep and technical by going under the hood, or keep it simple and tweak the exceptional presets until you find the perfect effect. Suddenly, any audio can be radically transformed or just warmed up a touch. The presets are handily divided into categories, which makes findng the right one simple and fun.
Portal.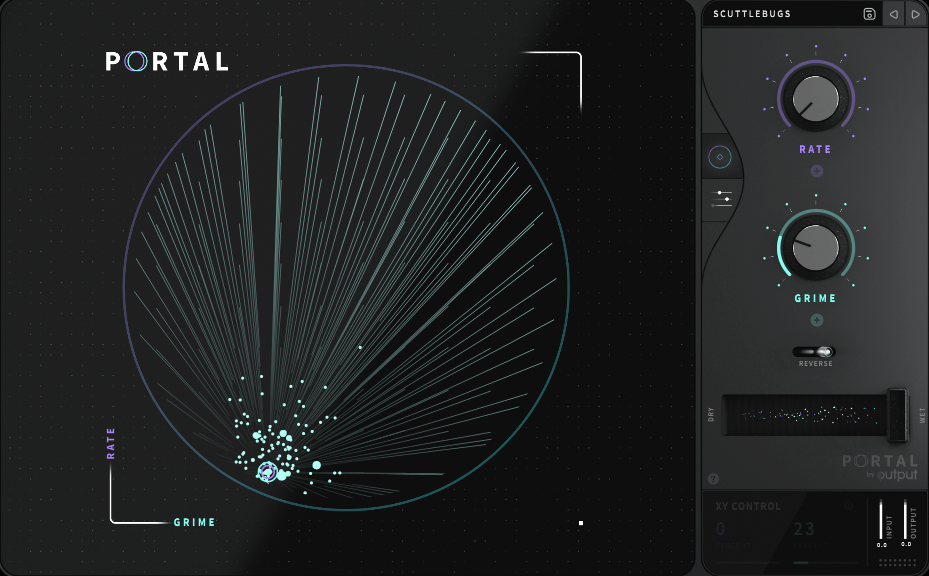 It's alive! Or so it feels… Portal seems to breathe, sing and talk of its own accord. Using combinations of modulation sources, much like Thermal, Portal is an incredibly creative tool for time and pitch-shifting. Agan, the presets offer more than enough to transform drums, vocals and instruments into mutating, pulsing, stretching and smearing beasts. Portal literally seems to bring audio to life.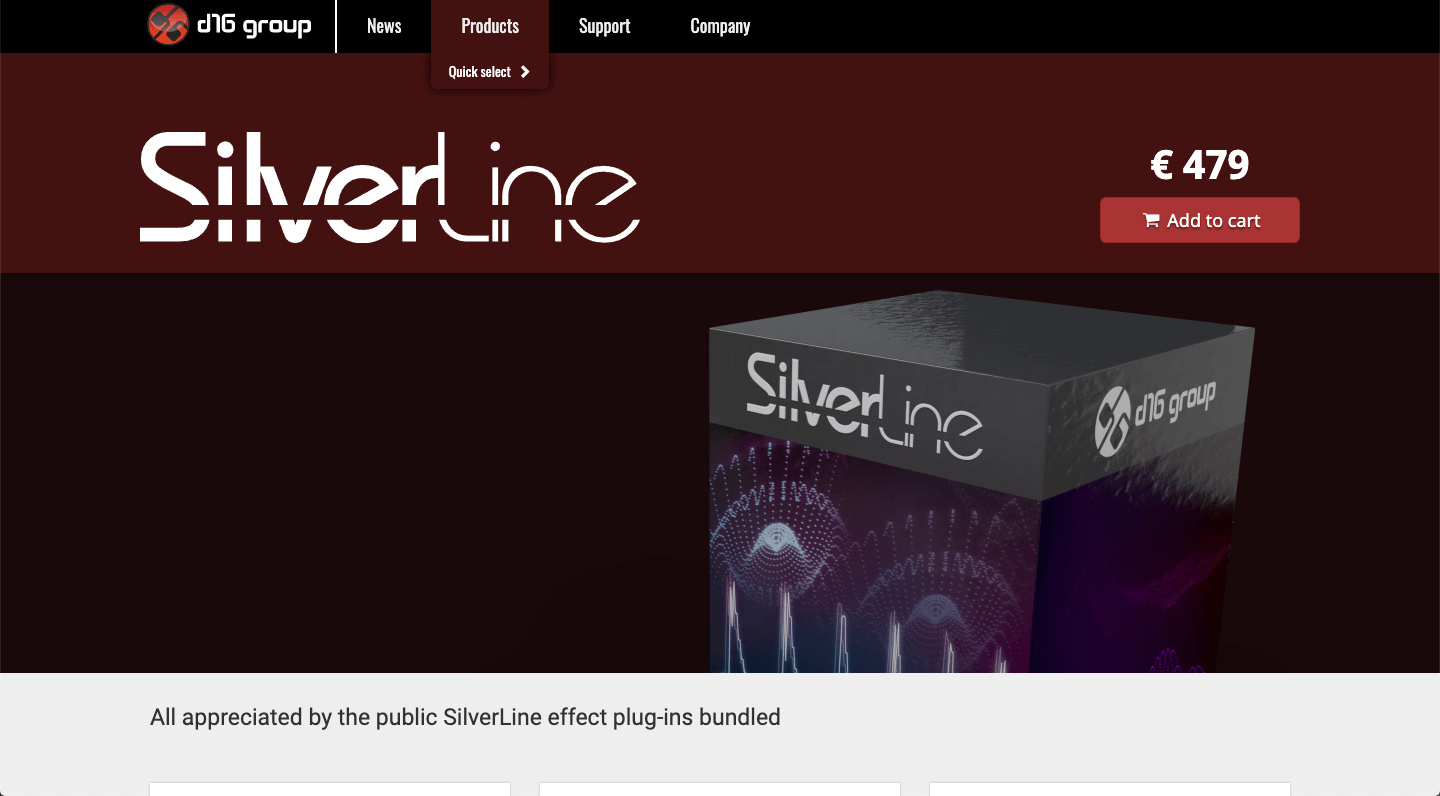 The name D16 commands respect in the audio processing world, thanks to their arsenal of amazing plugin effects. Comprised in the Silverline bundle, they offer a one-stop shop for professional-grade audio effects.
There's award-winners aplenty, from the Bitcrusher (Decimort 2), to their saturator, Devastator, Flanger (Antresol) and Sequenced Delay (Tekturon). Beyond this, you have sweet-sounding Flanger, Chorus, several Delays, Tube Distortion, Phaser, and an amazing Reverb.
These plugins are used by top industry professionals for good reason.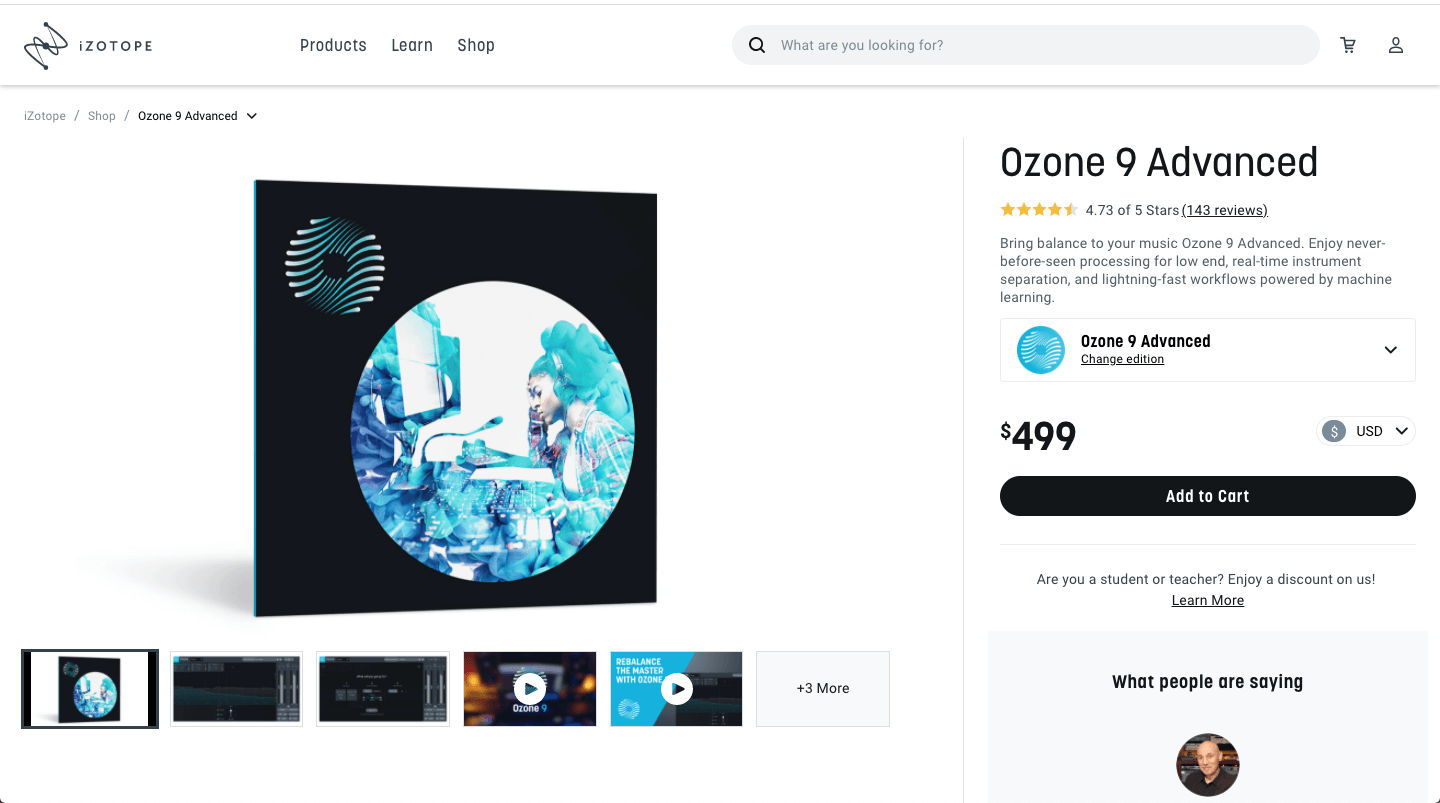 Izotope do it again with Ozone 9. It's a mix and master bundle that can literally do anything you might want. The package comprises EQ and Compression with sweet analog-style algorithms, Multiband Dynamics, Saturation, a deep stereo Imager and a mastering-friendly Maximiser and Limiter. As such, it offers a one-stop shop for all aspects of mixing and mastering. It also has unique features such as Tonal Balancer 2, which takes a snapshot of the EQ balance of any track or tracks you feed into it, and overlays this spectral analysis over your own project.
So, precision monitoring, tone control, transient management, compression and limiting in a modular style package. It also sounds amazing. It's not hard to see why Ozone 9 is the software of choice for many mastering engineers and pro producers.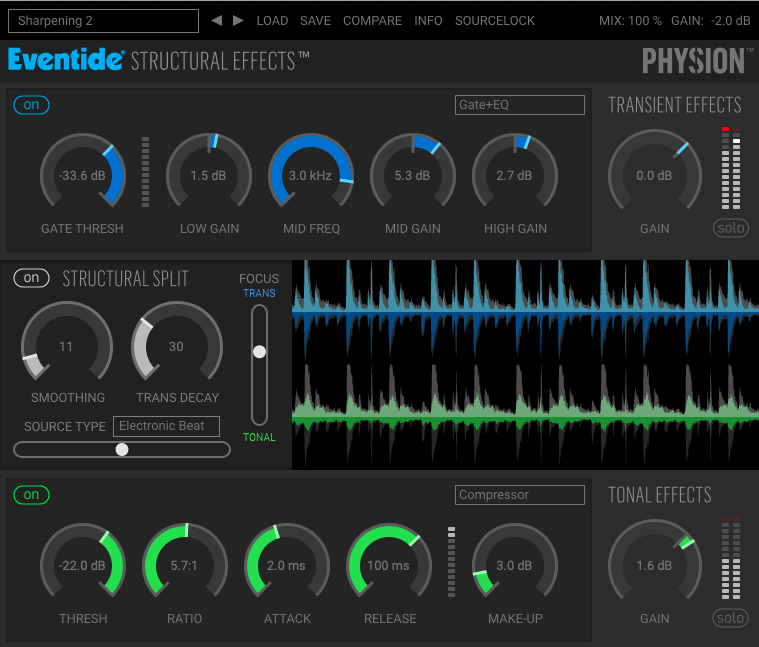 Eventide make great plugins, from the legendary Blackhole reverb to the equally legendary H3000, H910 Harmonizers and some epic flangers, phasers, reverbs and compressors. Generally, Eventide's plugins do things other plugins can't, and ooze with character.
While I could have chosen one of several outstanding plugins, I've decided to vaunt Physion with particular gusto. It's a multi-FX style plugin that boasts a unique Structural Effects processor. By splitting incoming audio into transient and tonal sections, it can work on both using separate effects, chiefly Transient Shaper, Chorus, Delay(s), Phaser, Gate and Reverb. By allowing this independent processing of different parts of the same signal, it's capable of some fabulous effects on vocals, synths, drums and guitars.
Personally, I love using it on drums, and rarely need to look past the incredible presets. Throw Physion on your drum bus channel and try Sharpening… it's like a magic trick – suddenly your drums are crisper, tighter, more dynamic and glued tight together.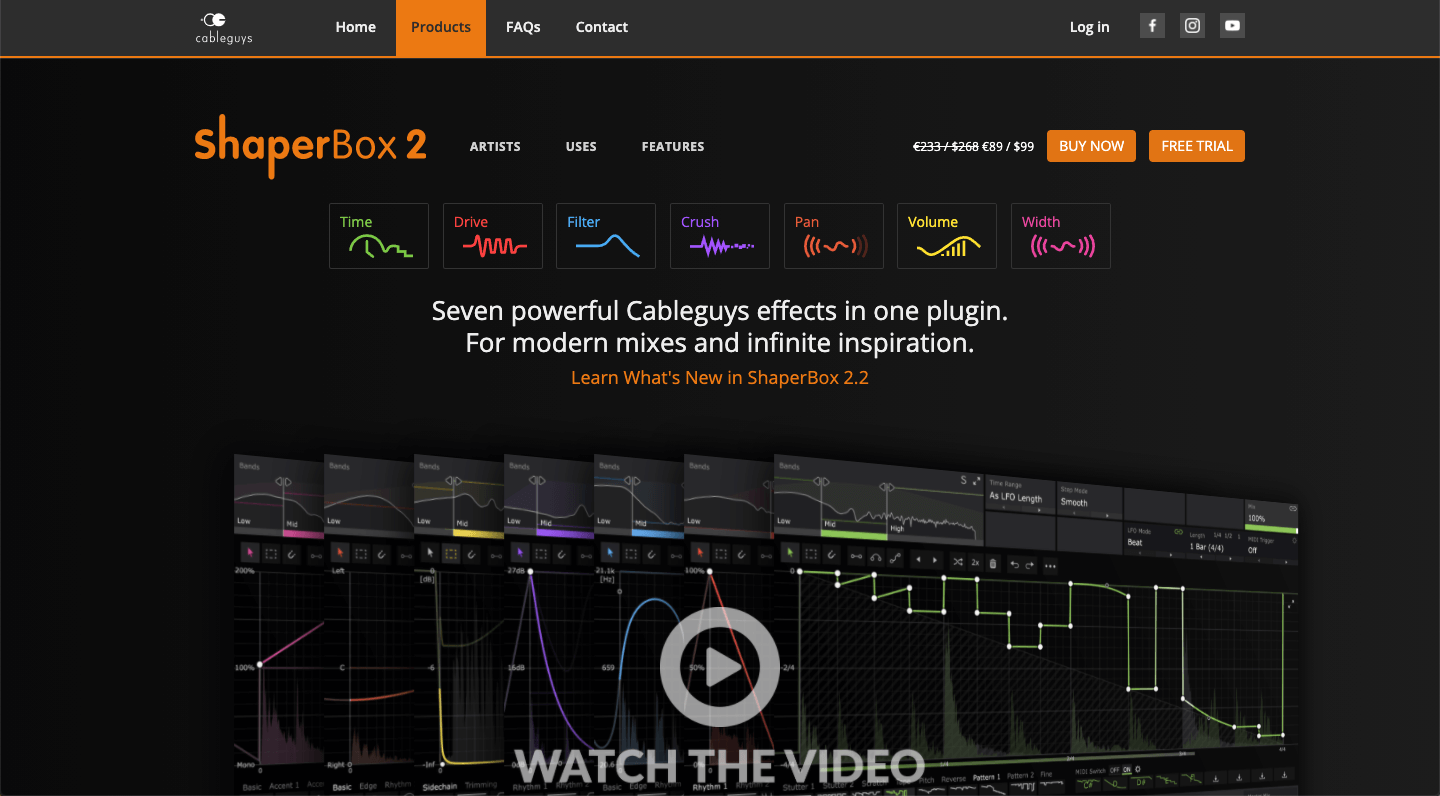 Pan, Volume, Distortion, Time-stretch, Filter, Bitcrush and Width. Each one an aspect of the mixing process with huge potential for creative processing. And in Shaperbox, each one is catered to with a dedicated, one-page-interface plugin. By encoding each with a similar workflow, but separate application, you only need to 'get' one plugin to be able to use all of them, which makes the process of getting creative that much faster.
Not only time-savers, these plugins are powerful, easy to customise and can be triggered by timing, MIDI input of audio signals. For ultimate control over the fabric of your music, Shaperbox is a must-have.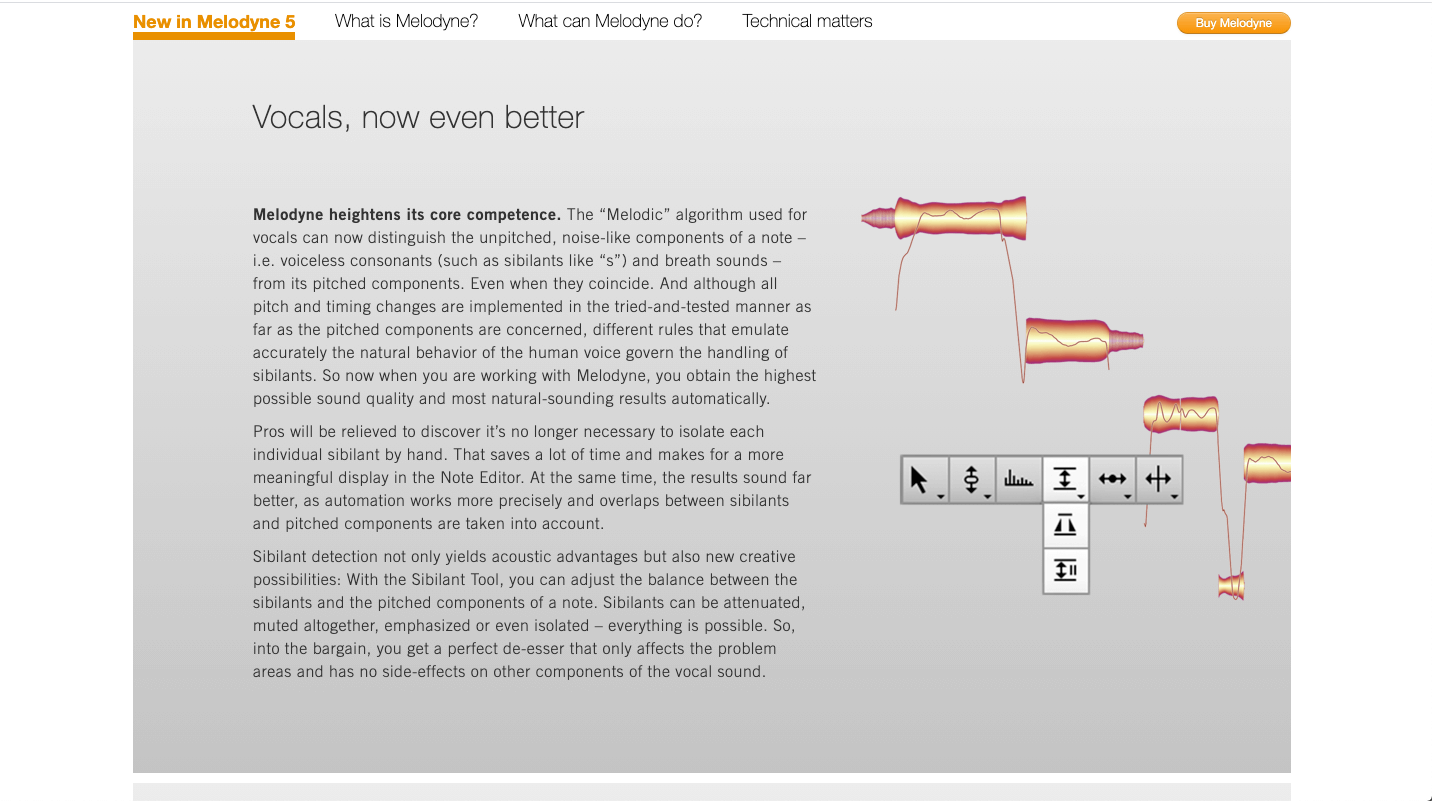 New technologies, for better results in less time. Thanks to the fundamentally improved "Melodic" algorithm, Melodyne makes your vocal editing even better than before. With perfect, natural corrections at the press of a key. Thanks to the Chord Track, you can adapt notes with lightning speed to suit the song – chord recognition included. And with the unique Fade Tool, you can create note-based fades – even in polyphonic recordings and samples.
Quite simply, it's the market leader and ultimate melodic editing tool around. Whether performing dramatic pitch manipulations or subtly bringing things into tune, Melodyne is astonishgly powerful, clean and effective.
New features:
:
Edit pitched and noise-like components separately with the "Melodic" algorithm.
A more musical analysis of pitch deviations
Chord Track and Chord Grid for pitch editing, and chord recognition. You can even move individual pitches within a chord!
Fade Tool and Leveling Macro for editing dynamics.
An additional algorithm ("Percussive Pitched") plus other algorithm improvements
Search functions for keyboard shortcuts, saving of shortcut sets
Composition and Collaboration Tools
Captain Plugins by Mixed In Key presents a unique and intuitive way to aid music composition. There's a plethora of plugins on the market designed to create or effect sounds within your DAW. However, until recently, the availability of music composition plugins to assist in music theory have been limited.
Music theory is a complex and often 'mind boggling' science, and with so many other aspects to consider when producing music, it can often be an area of knowledge which is overlooked. Luckily, for those who are not classically trained in music theory, Captain Plugins offer an intuitive and fun way to produce stunning chord progressions, basslines, drums and melodies; while increasing your workflow, allowing you to spend more time on what matters most, making music.
Captain Plugins comes complete with five plugins for a one-off payment of only $99. These are named Captain Chords, Melody, Deep, Play and Beat and they'll help you with every aspect of your songwriting. They also connect to each other within your favorite DAW to make sure you have full control over rhythm, tension and more.
Captain Plugins is a must-have for any producer who wants to improve their songwriting skills.
Quite simply the most sophisticated audio collaboration tool on the planet. While yes, we are biased, we just love the simple, easy to use interface, and the fact you can share audio with anyone, anywhere. You don't even need to leave your own DAW!
With a revolutionary approach to audio sharing, Satellite Sessions will open up new worlds of sonic collaboration. It's so easy to use, the only limitation is your imagination!
About the author: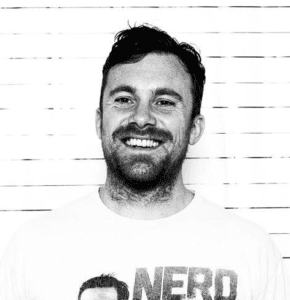 Adam Hignell is a music producer, mastering engineer, DJ and label-owner based in Brighton, UK. When not providing content and tech support for Mixed In Key, he produces music under the alias Don Dayglow, provides professional mastering and mixing services, and runs the independent Disco/House label Particle Zoo.
Write Your Own Original Compositions With Captain Plugins
It's super easy to create your own ideas from scratch. Visit the official Chords homepage and see how it will help you explore music and write your own original productions.