808 Drums
The legendary drum machine that changed the face of music.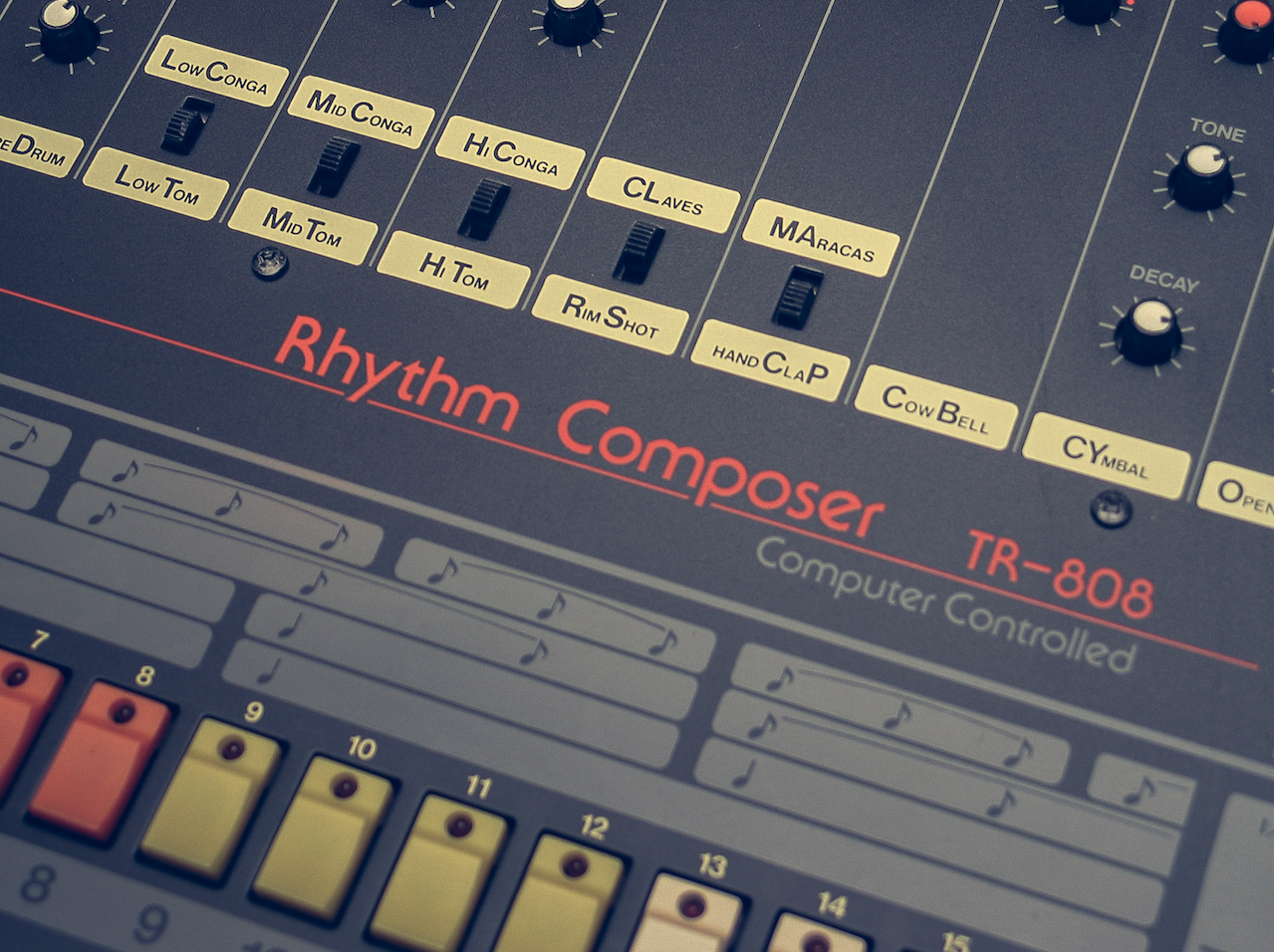 The Roland TR-808. A drum machine so legendary, producers simply call its drums '808s'… and everyone knows exactly what that means. It means bone-rattling drums that could shatter glass.
From early adopters like Afrika Bambaata and Derrick May to Kanye West, to Flosstradamus and any of a thousand contemporary beat-bangers, the 808 is synonymous with 'that sound'. What other drum machine has not only stood the test of time, but been continually instrumental in the creation of new genres. There simply is nothing like the Roland TR-808.
In 1980, it was a commercial flop.
It may seem simple impossible to believe, given its iconic status, but on release in 1980, the TR-808 was a commercial disaster. Drum machines were supposed to sound like acoustic drums. They were conceived with the musician in mind, who could merrily jam along over realistic sounding percussion. As Sean Montgomery, a product manager at Roland candidly opines "They did it the best they could with the analogue technology, and it sounded shit."
The 'problem' with the TR-808, it was reasoned at the time, was it sounded like anything but real acosutic drums.
After 3 years of production, with embarrassingly poor sales figures, the TR-808 ceased production. And this is where the story gets interesting.
This unloved, unwanted drum machine's pricepoint had dropped low enough that underground musicians could afford it. Not that, at the time, they wanted it.
But when Afrika Bambaata's Planet Rock came out in 1982, a whole generation were freaking out to its otherwordly, infectiously heavy rhythms. Word started to get around that this sound came courtesy of the 808.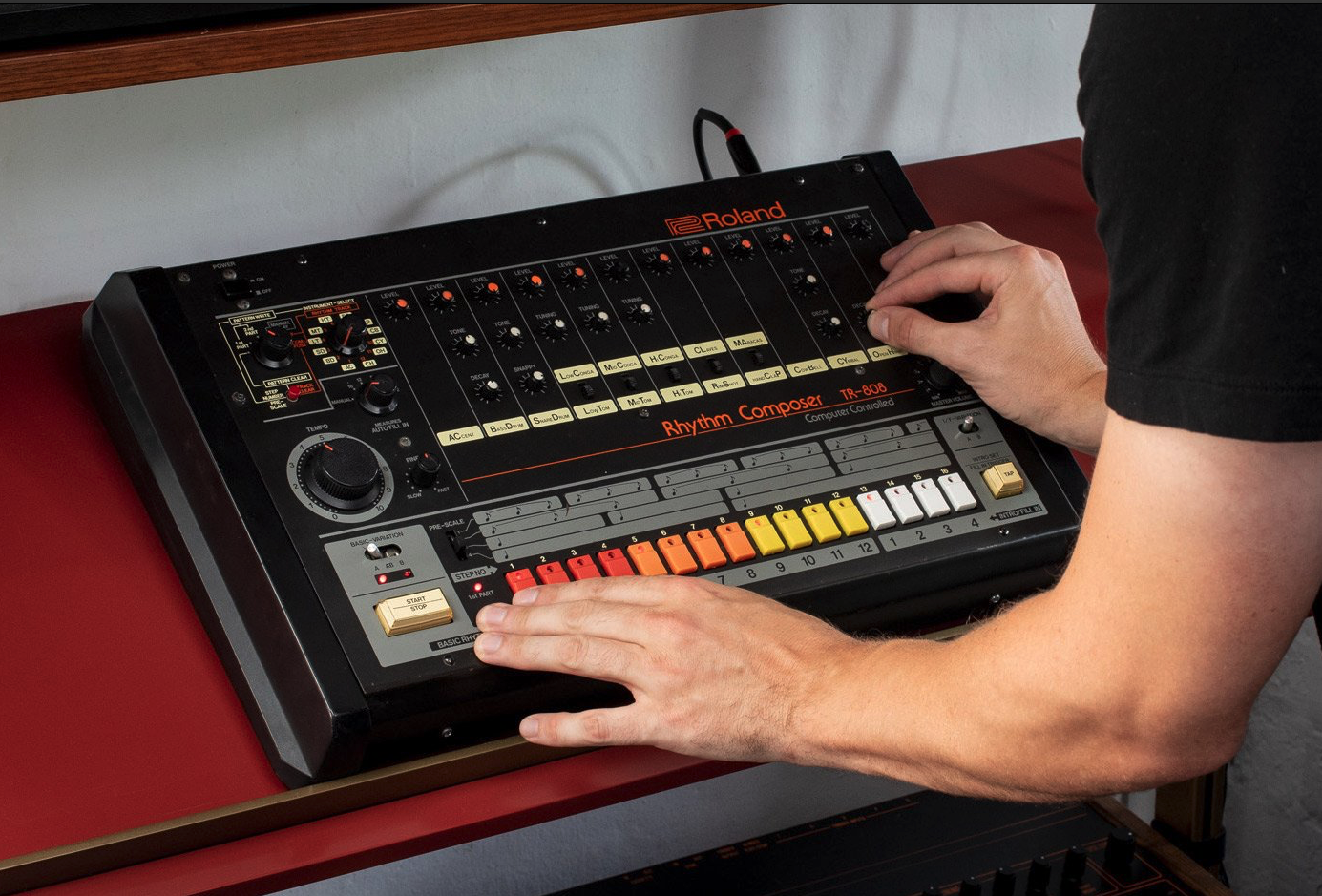 image courtesy of Samples from Mars
[the_ad id="8173″]
Underground champion.
Artists like Egyptian Lover and Detroit-based Techno producer Juan Atkins were among the first producers to obtain one after hearing Planet Rock.
The day after buying his, Egyptian Lover played it to 10,000 people with Uncle Jamms Army DJ Crew. This little analog drum machine that had failed spectaularly to sound like real instruments, suddenly was the instrument. As Egyptian Lover recalls "I didn't have any other instruments – the beat was moving the whole crowd. Thousands of people were dancing to this one little drum machine."
The Detroit story.
While Egyptian Lover took his 808 straight to the people, Juan Atkins was still in college. There, he met Derrick May and Kevin Saunderson, who used to share Atkins' 808 between them, using it to experiment with a new style of futuristic music. This trio are widely credited for inventing the Techno genre. Atkins started taking the 808 along to his part-time DJ sets, and couldn't ignore the reaction. "We just took an 808 to the party, and made rhythm tracks on the fly – the place went crazy. It was something fresh, more than just playing a record."
It was the start of a scene that would take over the world. And all thanks to one, downtrodden and unloved, little drum machine.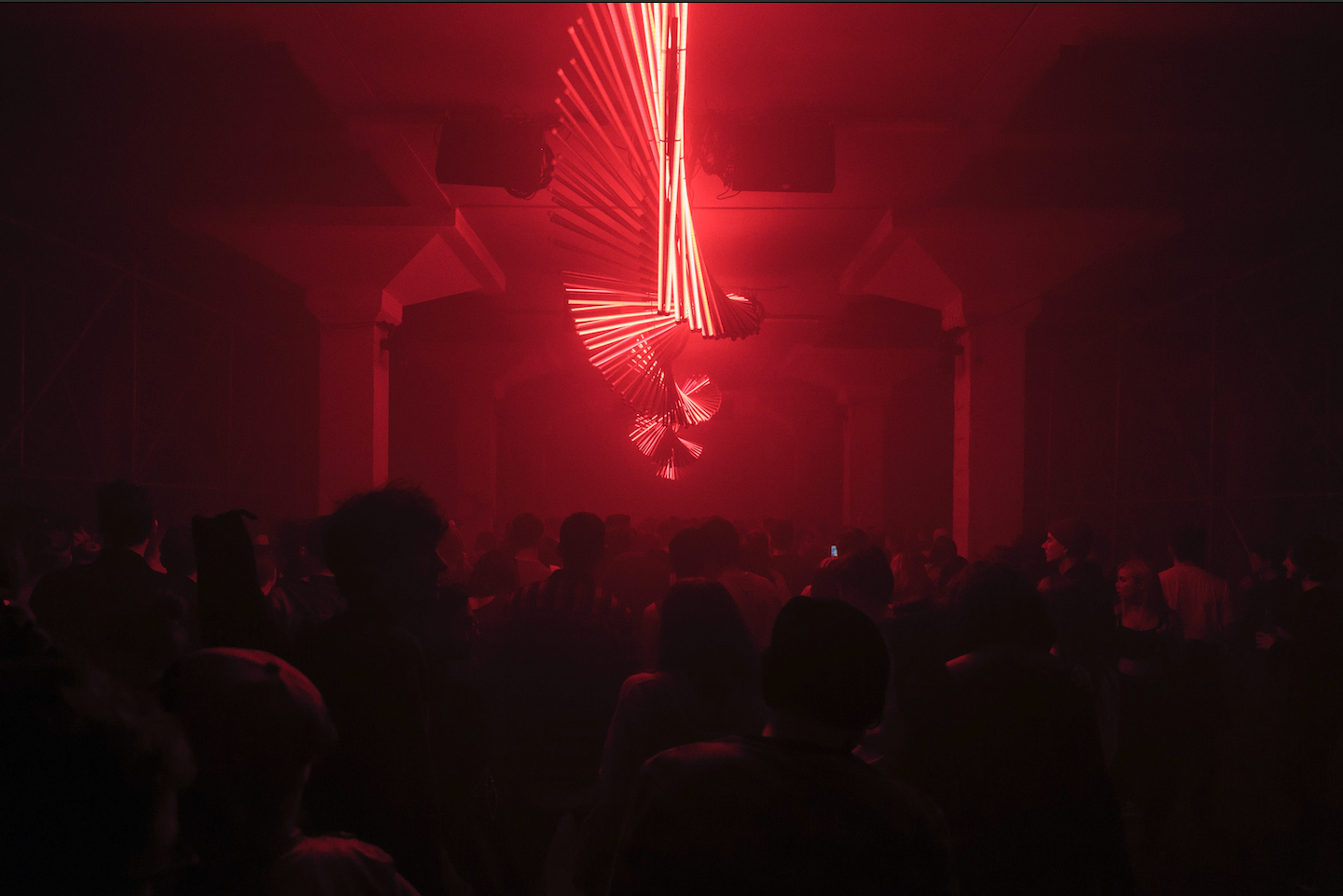 A softer side.
While the 808 is often associated with aggressive, in-your-face Hip-Hop, Trap and Techno beats, it's impossible to underplay the 808's softer side. Used as the backing beat for Marvin Gaye's Sexual Healing, its cowbell, claves, rimshots and claps became synonymous with RnB and cool pop from the mid-eighties, all the way through the 90s and beyond. It's part of this cross-genre appeal that makes the 808 such an iconic machine.
One of the great love songs, Sexual Healing owes its unique percussive character to the 808.
Meanwhile, UTFO were among the many Hip-Hop groups utilising the softer side of the 808 for romantic urban tracks.
There is a silkiness to the percussion that is rarely found in analog synthesis, which is another part of the 808s enduring appeal.
Contrast this with the insistent, brooding Juke madness of Addison Groove's Footcrab…
Craft epic 808 drums in Captain Beat.
Captain Beat comes with 2 monstrous 808 kits. '808' is perfectly calibrated for tough, punchy drums, while 'Code 808' has that low-riding, bass-bin rattling swagger we all love.
With on-board customization controls that allow you to tailor the most immaculate 808 drums going, you'll never need an 808 from anywhere else.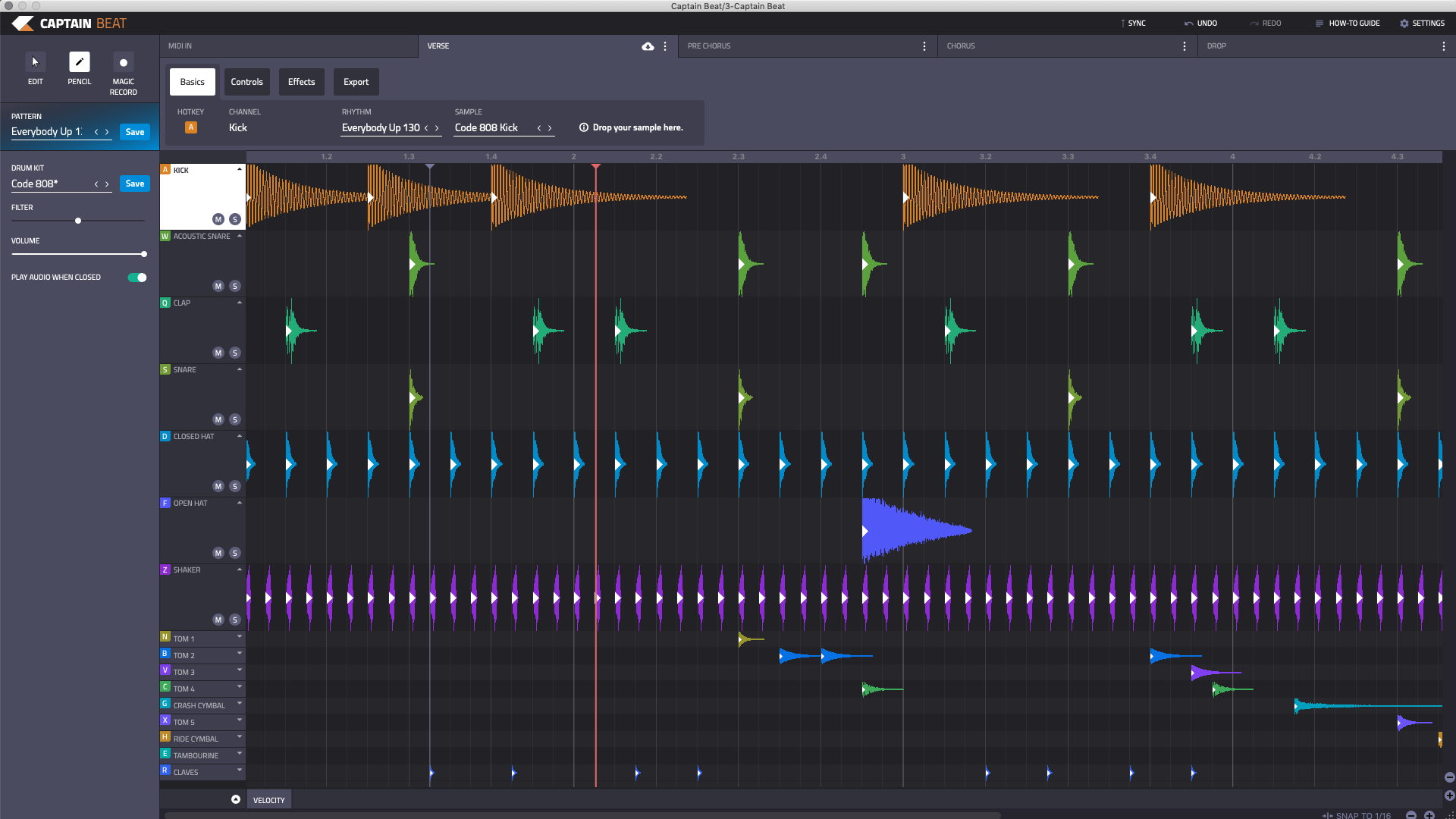 In practice.
Using the 808 is pretty straightforward – which is part of the immediacy of the sound. The hardware version has a simple step sequencer, which can be populated with drum hits anywhere on the timeline across 16 channels. These days, with authentic TR-808s costing several thousand bucks, most producers use emulations (such as the Roland TR-808 VST plugin ) or samples (like Samples from Mars excellent 808 From Mars pack). Alternatively, some more affordable hardware version, known as clones, are in production for those who prefer a physical unit. Roland have released a slew of analog-emulating 808s, the TR-8, TR-08 and the Roland TR8S, while Behringer launched the RD-8, boasting full analog circuitry at an affordable price.
However you manifest your 808 drums, using them is (pretty much) all about Decay, Saturation and Pitch.
Decay:
Compare the bass drums in these classic tracks:
New Kids On The Block – Please Don't Go uses a short, pumping bass drum in it's exclusively 808-driven drumbeat.
Lil' Wayne's Let The Beat Build, by contrast, has full, subby bass drums with long decay settings. This ultimately replaces the need for a bass-line, since the bass drums are so pronounced.
By adjusting the decay of your 808 drums, you can radically alter their effect. The sounds themselves are bona fide classics – you use them because they're definitive and recognizable. How long each hit lasts is fundamental to your beat.
Saturation.
Saturation is another word for distortion, and is particularly effective on meaty drums like 808s.
By using saturation VST plugins like Fab-Filter Saturn, Waves K-Tape or Ozone Tape Distortion, you can radically transform the character of your 808 drums. Light saturation adds sparkle, while the more you dial up the saturator, the grittier your drums become. Nowhere is this more evident than in Tommy Smith III's filthy take on Memphis Hip-Hop:
Saturdation is generally classed as 'warmth' – by adding artefacts and overdrive to an audio signal we can recreate the naturally occuring distortion that made recordings with analog gear sound so good. Without saturation we often have a digital, glassy sound. And with 808 drums, a little saturation sounds absolutely amazing.
This excellent guide form Sound Oracle offers 5 suggestions for 808 drum saturation plugins.
Pitch.
Pitch is important in all drum beats. You want the tonal sounds, such as kik and snare, to marry beautifully with your bass and melodies, which usually means tuning them to an appropriate note in the track's key. With the 808, that principle is even more important. In fact, as we can see in this example from Julio Bashmore, 808 drums can become integral instruments within the song itself:
Julio Bashmore's 2013 classic 'Battle For Middle You' used 808 bassdrums as the entire bass-line. By pitching them into 3 distinct pitches, a melodic bass-line was created that could also utilise the rhythmic power of the drum.
In terms of overall frequency range, the 808 is uniquely primed for club-friendly beats. As Addison Groove neatly puts it "if you layer its bass drum, clap and snare on top of each other, it fills up such a specific but perfect frequency range that it sounds great in a club, at home, even on laptop speakers."
that's just one reason why producers across the decades have been able to send audiences crazy with the full and well-balanced sound of the 808. It's also great to know that the sounds 'just work' together, meaning less time tweaking parameters and more time making beats.
The sound that keeps on giving.
Since 1982, the TR-808 has been inspiring artists to innovate. Now synonymous with ultra-modern styles like Trap and Footwork, it's exciting to imagine what the next generation of producers are inspired to do with it.
Write your own 808 drums using Captain Beat
Captain Beat has 808 drums that bang. Visit the official Captain Beat homepage and see how it will help you explore music and write your own original beats.