10 Amazing Remote Collaborations in Lockdown.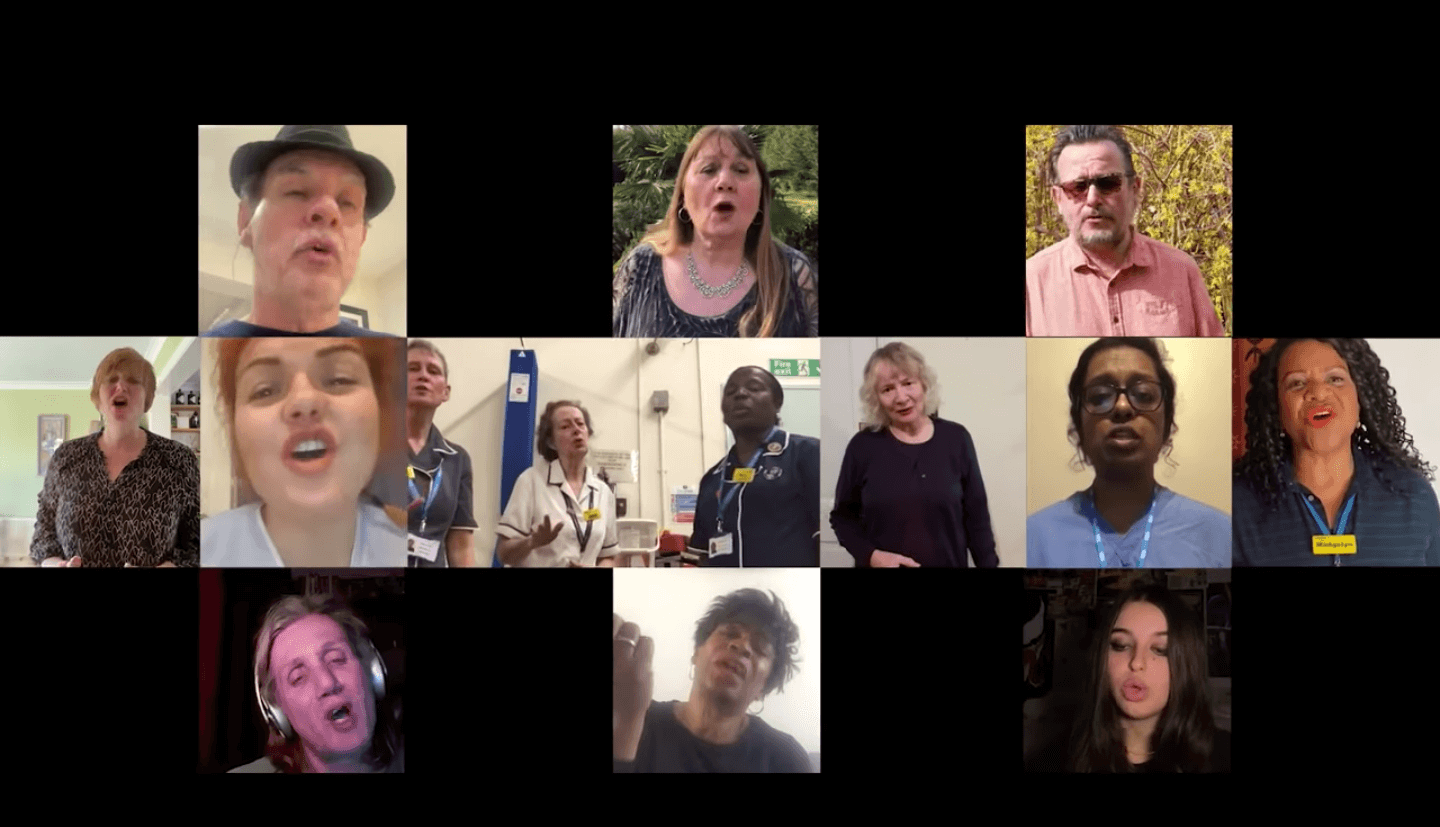 Music is often salvation in hard times. We need to resonate with great music to keep us going, and time have rarely been harder than in recent times. However, social distancing has created huge problems for musicians. We're social creatures, and even solo producers need to collaborate to make the most of their ideas.
With the odds stacked against them, and in many cases, liveliihoods hanging by a thread, musicians have stepped up to provide us with some incredible collaborations. Just when we need it most.
Let's take a look at 10 exceptional remote collaborations. Full disclousre and spoiler alert; there are some real tear-jerkers on the way… I won't pretend not to have shed a couple.
In no particular order (since it's far too subjective)…
DIVINE – Salaam.
COVID has reached everywhere, and the response has been suitably global. Here, in conjunction with Budweiser, artists across India donated their time and talents to help raise vital funds for the healthcare response to the pandemic. This Indian rap cut by Divine (beautifully produced by Karan Kanchan) bumps, albeit with lyrics I don't understand. Depite my lack of Hindi, the passion is evident and the spirit of togetherness touches the heart.
Taylor Swift & Bon Iver – Exile (from the album Folklore).
A truly superstar collaboration here. As unexpected as it is hauntingly beautiful, the meetng of minds between pop uber-queen Swift and the hugely respected Bon Iver results in something really quite beautiful. The whole 'Folklore' record is completely different to anything we've heard from Taylor Swift before, yet her hawk-eye for a killer hook is fully on display. Exile is our pick of the bunch.
MARI Bersuara – Menjaga Dunia.
Back to South Asia now, with a touching collaboration between some of Indonesia's most prominent musicians. Is it a bit cheesy? Yes, yes it is. But it's also a significant achievement, uniting the people of the nation with a lovely little ballad.
BBC R1 LiveLounge – Times Like These (Foo Fighters cover).
Another all-star collaboration – this time it's the UK's turn. BBC Radio 1 enlist the help of quite a cast to transform a Foo Fighters classic into a moving and powerful stadium pop opus. The artists involved are all household names, or destined for it:
5 Seconds of Summer
AJ Tracey
Anne-Marie
Bastille
Biffy Clyro
Celeste
Chris Martin of Coldplay
Dermot Kennedy
Dua Lipa
Ellie Goulding
Foo Fighters
Grace Carter
Hailee Steinfeld
Jess Glynne
Mabel
Paloma Faith
Rag'n'Bone Man
Rita Ora
Royal Blood
Sam Fender
Sean Paul
Sigrid
YUNGBLUD
Zara Larsson
Since this was all recorded at home during a strict national lockdown, the recording qualities vary. That doesn't detract from the power of te collaboration. It's really beautiful.
Breathe Harmony NHS Choir – Anytime You Need A Friend (Mariah Carey cover).
Staying in the UK, a community collaboration by the 'Breathe Harmony' NHS choir. With the NHS (National Health Service) rightly lauded as heroes on the pandemic frontline, it's hard not to be moved by the choir's powerful take on Mariah's classic.
Connect with friends. Connect with Satellite Sessions. Let's make music together.
Nick Cave & Marianne Faithful – new album out April 30 2021, created in Lockdown.
If Nick Cave and Marianne Faithful's collaboration album is anything like as beautiful as this 2018 collab, we are in for a treat.
Universal & Friends Present: Stay Home.
14 Singapore-based artists (ABANGSAPAU, Aisyah Aziz, Alif, Charlie Lim, Fariz Jabba, Hashy, Iman, ShiGGa Shay, Shye, Tosh Rock, YAØ, Yung Raja, Zadon) join forces with a singular message. Stay Home is a heart-warming Trap/Pop ballad with a tight beat and some nice cameos adding texture.
Mega Collaboration | Lockdown Music Extravaganza [36 Amazing Musicians!!!]
What this lacks in a memorable title it makes up for in EPIC SHREDDING. For those collaborating to rock, we salute you!
Faizal Tahir & Zee Avi – Make It Through.
Uplifting, moving and powerful, Zee Avi and Faizal Tahir collaborated in March 2020 with the aim of uniting Malaysians in trying times. It's got a seriously catchy hook and touches the heart in all the right places. And, it's raised a bunch of money for Malaysians affected by the pandemic.