Integration
Apple iTunes
It's important to make sure that your Mixed In Key results show up in iTunes correctly. This tutorial will make sure that you get the right results in iTunes.
This is how Mixed In Key results should look in iTunes: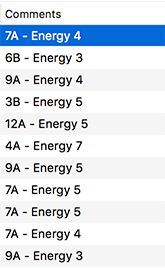 If everything is set up correctly, you should see the "Key + Energy" in your iTunes Comments column.
How to get your results into iTunes
Analyze your files in Mixed In Key. Mixed In Key will automatically update the ID3 tags to include Key and Energy.
Open iTunes. Go to Edit->Preferences->Advanced and make sure "Copy files to iTunes Media folder when adding to library" is NOT checked.
Add your files to iTunes. Your new tags will now appear.
NOTE: For iTunes on Windows:
To enable Mixed In Key to import playlists from iTunes on Windows, an option needs to be activated in iTunes – 'Share iTunes Library XML with other applications'. This can be found under Edit > Preferences > Advanced. The setting is set to OFF by default.
What my files were already in iTunes Playlists before I analyzed them in Mixed In Key?
No problem! First, analyze your files in Mixed In Key. Mixed In Key will automatically export Key and Energy results.
After analysis is complete in MIK, go to iTunes and select all your files, then right-click, and choose "Get Info"
In the window that pops up, type a space in a field that you don't plan on using (like "Composer"), and click OK:

That's it, you're ready to use iTunes in your favorite DJ software!
If you need help, email us!
We're DJs too, and we're happy to help you. You can always email us directly: contact@mixedinkey.com. Do you have ideas on what else we should explain? Let us know, and we'll respond to you and update this tutorial.
-Yakov and the Mixed In Key team