Key Detection with Mixed In Key
To use harmonic mixing, you need to know the key of every song you play. Our Mixed In Key software scans your entire music collection and displays key results in our easy-to-use Camelot Easymix notation (ex: 4A, 6B).
You probably know that key detection is built into a lot of common DJ software. How is Mixed In Key different? Independent tests show that our software is the most accurate one in the world. Our algorithms are more professional because we worked on this software non-stop for 11 years. That's why top DJs use Mixed In Key instead of inferior algorithms.
Mixed In Key helps you sound incredible when you play live.
Is Mixed In Key built into other DJ software?
No, never. Some software supports the Camelot system that we teach on our webpage, but you get authentic Mixed In Key algorithm results only if you have our software installed on your Windows or Mac. That's the software used by top artists and producers.
The easiest mix on the Camelot Wheel: Play songs in the same key
Look at your Mixed In Key results, and pick two songs that have the same key, like 5A and 5A. If you used Mixed In Key to analyze your music, it means your songs will be harmonically compatible with each other. When you mix between them, it'll sound like you're making a live mashup.
See the Camelot Wheel
When Mixed In Key scans your files, it shows you results using the Camelot Wheel notation, like 5A, 10B, and so on. We'll teach you how to use those results. Take a look at this picture: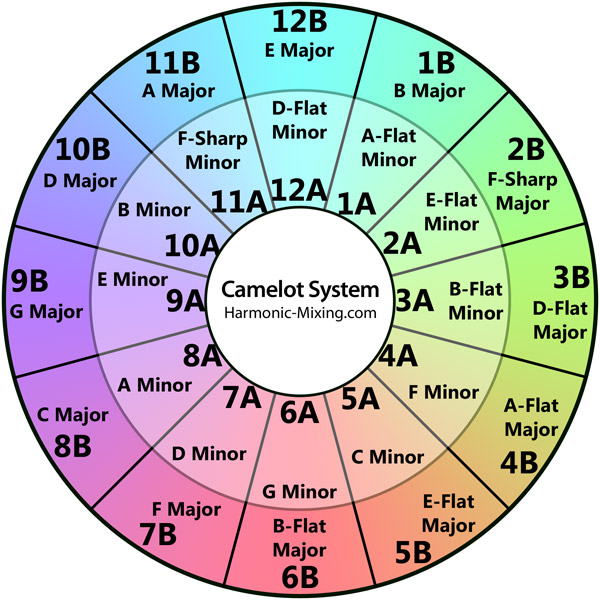 On this wheel, musical keys can be seen as "hours" on a clock. For example, 4 o'clock corresponds to 4B or 4A. The letter B represents Major keys, and letter A represents Minor keys.
Mixed In Key detects these Camelot values for every MP3 and WAV file, and you'll see them in your favorite DJ software.
Mix tracks that are -1 or +1 from your current Key
When you're DJing, you don't want to play the same key all the time. You can change keys with every mix by moving around the Camelot wheel one step at a time. Think of it like hours on a clock.
Mix between tracks by subtracting one hour (-1), adding one hour (+1), or staying in the same hour as your last song.
If you're playing a track in 8A, your next one can be 8A again, 7A (-1) or 9A (+1):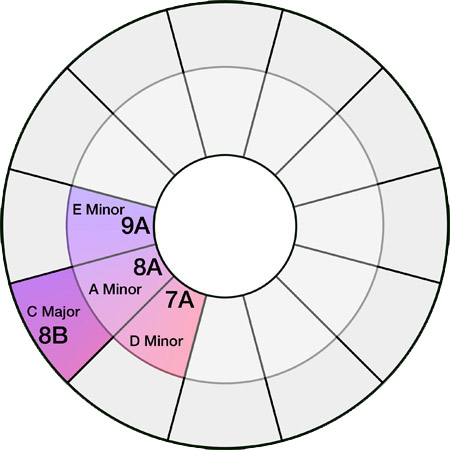 Mixing from inner circle to outer circle
For a pleasant harmonic mix, you can keep the same number, but change the letter. For example, 8A goes with 8B because the number 8 is the same. You can mix between them.
That gives you four great options. If you're looking at your Mixed In Key results and trying to decide what song to play next, look for something that's adjacent to your current Key Code. All of those songs will be harmonically compatible.
How to play an entire DJ set
It's pretty simple. Pick any track you like and start playing. If you chose 5A, what can you mix into?
Any song in 4A (-1 number)
Any song in 5A (same key)
Any song in 6A (+1 number)
Any song in 5B (change the letter)
Just go from there. We recommend going clock-wise or counter-clockwise around the wheel, changing key every couple of songs. For example, we may play: 10A > 10A > 10B > 9B > 8B > 8A > 7A > 6A for a 100% harmonic DJ set. It never gets boring because there is a music progression happening during the entire mix.
How do famous DJs use Mixed In Key
The most common way to use Mixed In Key is:
Add your entire music collection to Mixed In Key (MP3s, WAVs, AIFFs)
Mixed In Key will analyze your music and do Key Detection, Energy Level Detection, and find your Cue Points
This information will transfer over to your favorite DJ software, so you can see Mixed In Key results in Serato, Traktor, Ableton Live, Pioneer CDJs + Rekordbox and all others.
Use Mixed In Key results from our algorithm + Energy Level + Cue Points when playing live
You can learn how to use Energy Levels to sort your playlists, and set Cue Points to do Power Block mixing.
Learn from an extreme example
Here's an example of 32 songs mixed in 5 minutes. This is done using the Mixed In Key technique:
Everything in this mini-DJ set is harmonic, which means there are no key clashes. You can do the same thing with your favorite DJ software - just analyze your tracks with Mixed In Key and create a playlist that sounds amazing to you.
Integrate Mixed In Key with your DJ software
Learn how to use Mixed In Key with your favorite DJ software like Serato, Traktor, Ableton Live, Pioneer rekordbox.
Learn Advanced Harmonic Mixing
If you're buying Mixed In Key, you will be able to use these 4 techniques as well: